UnNews
:
American-Arab Anti-Discrimination Committee Sues Boy/Costume
Jump to navigation
Jump to search
| | |
| --- | --- |
| | This article is part of UnNews, your source for up-to-the-picosecond misinformation. |
31 October 2008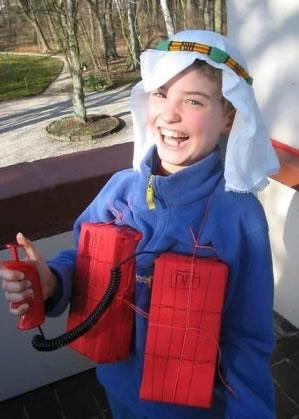 CASA GRANDE, ARIZONA – Little Eddie McVicar had been looking forward to Halloween since the beginning of October. He saved all his money from his paper route as well as his allowance then went to a local store where he chose a costume and purchased it. He took his costume home and in his bedroom he altered it. When he showed up to school on Oct. 31st. his friends told him that it was the coolest and funniest costume that they had ever seen. School Officials were not so enthusiastic however, and they called Eddie into the Principals Office. There he was told to remove his costume due to "Cultural Sensitivity Issues". Eddie stated that he couldn't as he had only underwear and a t-shirt on underneath. School Officials called his Father who had to leave work to go to Palo Christi Elementary School. Eddies Father would not comply with the wishes of the Staff and the School Principal called the Yuma County Sheriff's Department.
Once on scene, Officer Millwardo took a report. Following Arizona Sheriffs Department Regulations, Officer Millwardo called the Juvenile Division of the Arizona State Department of Corrections as well as the Phoenix Branch of the Federal Bureau of Investigations. FBI Officials dispatched to Palo Christi Elementary School arrested Eddie McVicar and charged him with the following felonys: Public Disruption, Disruption in an Academic Setting, Taunting, Civic Perpetude, and one count of a Hate Crime. The Arab-American Anti-Discrimination Committee had a swift response:
| | | |
| --- | --- | --- |
| " | There is never an excuse for mocking any race or religion. This is a manifestation of the lack of compassion Americans have for people who are culturally different. It would be hostile and in poor taste to dress up as a Quaker with a pitchfork in his head, or a Mormon with arrows in his body, and this is equally as inappropriate. We are not amused and will file paperwork to sue this irresponsible, insensitive child and his family and his school district. | " |
"That's my boy!" beamed Eddies Father, as Eddie was being carted away. "That's my boy!"