UnNews:Amazon to require workers to wear diapers
Jump to navigation
Jump to search
Tuesday, April 6, 2021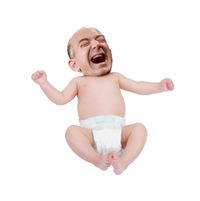 Beginning next week, all Amazon employees will be required to wear diapers. The announcement comes after criticism that overworked Amazon warehouse employees and drivers are urinating in bottles.
The company argues its decision will solve the bottle pissing problem while increasing efficiency, as workers will no longer have to pause working to piss in a bottle. The company also announced it would be cutting break times in half, from five minutes to two and a half minutes, since workers will no longer need to use their breaks to relieve themselves.
"We heard the concerns of the public, and the concerns of the employees who spoke out before we fired them," said an Amazon spokesperson on Twitter. "We understand it is a humiliating experience to have to piss in a Mountain Dew bottle like a gamer, which is why we've come up with a solution that should satisfy everyone. Now they can piss in their diapers and keep working."
The company is requiring workers to purchase their own diapers from Amazon.com, but is offering a free e-book titled "Why Unions Hate You" with their first purchase of 100 diapers.