UnNews:"900 Purple Armpits and a Zesty Alligator" fervor reaches new heights
Jump to navigation
Jump to search
29 July 2006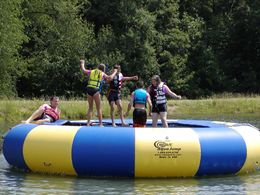 BRUNEAU, Idaho: Park officials of Bruneau Dunes State Park in Idaho, U.S.A. reported a record visitation of over 23,000 on July 28th for a spontaneously begun trampoline festival unofficially titled "900 Purple Armpits and a Zesty Alligator Trampoline-o-thon". The primarily 20-something attended event was furnished with 562 trampolines of varying size, creating lines of 90 yards in front of popular trampolines during peak hours. All participants sported the now ubiquitous purple-dyed armpit hair, and one alligator named "Sally" was held chained to a post in the center of the park grounds. Park officials comment that a surprising level of order was maintained despite the scale of the event and its lack of a recognized organizer, with only 2 arrests and 26 minor injuries. Both arrests were from beverage vending license violations and injuries varied from skinned knees to compound leg fractures.
This event was one of many which continue to be held worldwide spurred on by the "900 Purple Armpits and a Zesty Alligator" craze. The said craze began around June 12th, the day after a mysterious flashing black and white banner was featured on Google and Yahoo search engine sites. The banner with the enigmatic "900 Purple Armpits and a Zesty Alligator" slogan remained on the top of each page for no more than one hour and twenty minutes, but this was more than enough time to create an unprecedented movement that has some prominent sociologists saying "Wha?" and others saying "Meh".
Currently, so-called "Open Pit" t-shirts which expose the armpit region boast tremendous sales in retail stores across the world.
A 50-year old Chicago, U.S.A "900 Pitster" comments "I don't know what's coming next and when it will, but I voted Fish Penis back in the 80's and like hell I'm going to miss out on this". A Dublin Ireland woman comments "Snakes on a Plane is so yesterday. Right now I'm reading any web site I can find that describes how to optimize the zestiness of my pet alligator."
Plans for movies, novels and religious pilgrimages based on the "900 Purple Armpits and a Zesty Alligator" phenomenon are all in the works, each racing to be the first one officially announced. Meanwhile, world religious leaders continue their campaigns to direct their believers' anticipations back to the comings of their respective saviors.