Sandbag
Jump to navigation
Jump to search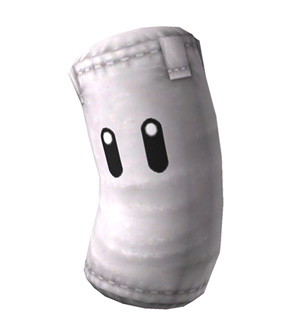 Sandbag is the secret boss of every game in the Super Smash Bros. series. His powers include giant laser cannons, Instant opponet kill, Bazooka, Cloning, and summoning the Fighting Alloys (or the Fighting Wire Frames as in Melee or the Fighting Polygons as in the first game) to do his bidding.
Sandbag has also played several other roles in Super Smash Bros. games, such as a smaller version of him making a cameo in the "Home Run Contest" mode of SSBM. It is common belief that this version of him is his child, shitbag.

Here's how to fight him in Super Smash Bros.:
Get all characters and stages.
Then, beat 1-player mode on Very Hard, one life, no continues, and without taking any damage.
After you destroy Master Hand, Sandbag will appear.

Here's how to fight him in Melee:
Get all characters, stages, and trophies.
Then, beat Adventure Mode on Very Hard, one life, no continues, and without taking any damage in under 18 minutes.
After defeating Giga Bowser, Sandbag will fight you.

Here's how to fight him in Brawl:
Get all characters, stages, trophies, CDs, Assist Trophies, and stickers.
Beat Classic and The Subspace Emissary on Intense, one life, no continues, without taking any damage, and don't use any Smash Balls AT ALL!!!!!!
After you beat Tabuu, Sandbag will challenge you.
After the credits roll, when you met the conditions, you will see an animation of Sandbag emerging from hiding. The cutscene is the same in all three games. It goes like this: You will be sent to Sandbag's lair. Sandbag will say, "Well, you found me at last. So prepare to meet thy doom.", then he'll blast you with his giant laser cannons, laugh manically, then you fight him. If you defeat him, another cutscene is shown. It shows Sandbag asploding and his lair breaking apart. Now you have to escape and avoid Sandbag's laser cannons. (he actually dies when you escape). After escaping, Sandbag and his lair asplode at the EXACT same time. During the asplosion, you can hear Sandbag screaming so loud that your character asplodes too. Don't worry, they will still be playable. Then a notice will say "ASTOUDING! YOU BATTLED SANDBAG FOR THE FIRST TIME EVER!"
Personal Life
[
edit
]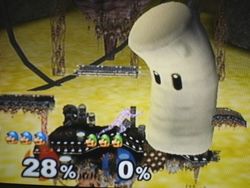 Sandbag was born in a small, log cabin in a forest in 1960, after which he got bored and blew the place to pieces with his sand-based superpowers. He went to school at a local elementary school until third grade, when he and his family moved to Kentuckistan, where he lived until he was 24, when he fell in love with a female bag of sand named Gravel, who lived in Los Angeles. They were married in 1985, and Sandbag moved in with her, in her home in LA. Gravel's job as a teacher was able to support them for a while, but after a few years, money became tight, so Sandbag looked for a job. There was a want-ad in the newspaper for a final boss in Super Smash Bros.. He got the job, but only to be revealed that Master Hand took the job long before.
"Yeah, I got mad, but I got the role of a Secret Boss instead. After taking that job, the develepors had to make me so powerful that no one, not even AAA, can beat."
~ Sandbag on his job
"STFU n00b I could pwn you"
~ AAA on the above quote
Family Tree
[
edit
]
 Grandfather:  Grandmother:    Grandfather:  Grandmother
   Dirtbag        Landslide   Shovel      Forklift
      |             |               |             |
       -------------                 -------------
             |                             |
          Mother:                       Father:
          Asphalt                       Mudbag
             |                             |
              -----------------------------
                            |       Wife:
                         Sandbag   Gravel
                            |         |
                             ---------
                                 |
                               Child:
                              Shitbag
                             ----------

The ONLY one who has ever defeated him is AAA.
AAA also broke Ganondorf's record of 9999.9ft in the "Home Run Contest" (with Jigglypuff), resulting in the ultimate crash. The game made a weird noise, the Gamecube exploded, resulting in a time paradox which caused the universe to be sucked into a black hole without warning, and we all died. The amount of distance AAA got was "AAAAAAAAAAAAAAAAAAAAAAAAAAAAAAAAAAAAAAAAAAAAAAAAAAAAAAAAAAAAAAAAAAAAAAAAAAAAAAAAAAAAAAAAAAAAAAAAAAAAAAAAAAAAAAAAAAAAAAAAAAAAAAAAAAAAAAAAAAAAAAAAAAAAAAAAAAAAAAAAAAAAAAAAAAAAAAAAAAAAAAAAAAAAAAAAAAAAAAAAAAAAAAAAAAAAAAAAAAAAAAAAAAAAAAAAAAAAAAAAAAAAAAAAAAAAAAAAAAAAAAAAAAAAAAAAAAAAAAAAAAAAAAAAAAAAAAAAAAAAAAAAAAAAAAAAAAAAAAAAAAAAAAAAAAAAAAAAAAAAAAAAAAAAAAAAAAAAAAAAAAAAAAAAAAAAAAAAAAAAAAAAAAAAAAAAAAAAAAAAAAAAAAAAAAAAAAAAAAAAAAAAAAAAAAAAAAAAAAAAAAAAAAAAAAAAAAAAAAAAAAAAAAAAAAAAAAAAAAAAAAAAAAAAAAAAAAAAAAAAAAAAAAAAAAAAAAAAAAAAAAAAAAAAAAAAAAAAAAAAAAAAAAAAAAAAAAAAAAAAAAAAAAAAAAAAAAAAAAAAAAAAAAAAAAAAAAAAAAAAAAAAAAAAAAAAAAAAAAAAAAAAAAAAAAAAAAAAAAAAAAAAAAAAAAAAAAAAAAAAAAAAAAAAAAAAAAAAAAAAAAAAAAAAAAAAAAAAAAAAAAAAAAAAAAAAAAAAAAAAAAAAAAAAAAAAAAAAAAAAAAAAAAAAAAAAAAAAAAAAAAAAAAAAAAAAAAAAAAAAAAAAAAAAAAAAAAAAAAAAAAAAAAAAAAAAAAAAAAAAAAAAAAAAAAAAAAAAAAAAAAAAAAAAAAAAAAAAAAAAAAAAAAAAAAAAAAAAAAAAAAAAAAAAAAAAAAAAAAAAAAAAAAAAAAAAAAAAAAAAAAAAAAAAAAAAAAAAAAAAAAAAAAAAAAAAAAAAAAAAAAAAAAAAAAAAAAAAAAAAAAAAAAAAAAAAAAAAAAAAAAAAAAAAAAAAAAAAAAAAAAAAAAAAAAAAAAAAAAAAAAAAAAAAAAAAAAAAAAAAAAAAAAAAAAAAAAAAAAAAAAAAAAAAAAAAAAAAAAAAAAAAAAAAAAAAAAAAAAAAAAAAAAAAAAAAAAAAAAAAAAAAAAAAAAAAAAAAAAAAAAAAAAAAAAAAAAAAAAAAAAAAAAAAAAAAAAAAAAAAAAAAAAAAAAAAAAAAAAAAAAAAAAAAAAAAAAAAAAAAAAAAAAAAAAAAAAAAAAAAAAAAAAAAAAAAAAAAAAAAAAAAAAAAAAAAAAAAAAAAAAAAAAAAAAAAAAAAAAAAAAAAAAAAAAAAAAAAAAAAAAAAAAAAAAAAAAAAAAAAAAAAAAAAAAAAAAAAAAAAAAAAAAAAAAAAAAAAAAAAAAAAAAAAAAAAAAAAAAAAAAAAAAAAAAAAAAAAAAAAAAAAAAAAAAAAAAAAAAAAAAAAAAAAAAAAAAAAAAAAAAAAAAAAAAAAAAAAAAAAAAAAAAAAAAAAAAAAAAAAAAAAAAAAAAAAAAAAAAAAAAAAAAAAAAAAAAAAAAAAAAAAAAAAAAAAAAAAAAAAAAAAAAAAAAAAAAAAAAAAAAAAAAAAAAAAAAAAAAAAAAAAAAAAAAAAAAAAAAAAAAAAAAAAAAAAAAAAAAAAAAAAAAAAAAAAAAAAAAAAAAAAAAAAAAAAAAAAAAAAAAAAAAAAAAAAAAAAAAAAAAAAAAAAAAAAAAAAAAAAAAAAAAAAAAAAAAAAAAAAAAAAAAAAAAAAAAAAAAAAAAAAAAAAAAAAAAAAAAAAAAAAAAAAAAAAAAAAAAAAAAAAAAAAAAAAAAAAAAAAAAAAAAAAAAAAAAAAAAAAAAAAAAAAAAAAAAAAAAAAAAAAAAAAAAAAAAAAAAAAAAAAAAAAAAAAAAAAAAAAAAAAAAAAAAAAAAAAAAAAAAAAAAAAAAAAAAAAAAAAAAAAAAAAAAAAAAAAAAAAAAAAAAAAAAAAAAAAAAAAAAAAAAAAAAAAAAAAAAAAAAAAAAAAAAAAAAAAAAAAAAAAAAAAAAAAAAAAAAAAAAAAAAAAAAAAAAAAAAAAAAAAAAAAAAAAAAAAAAAAAAAAAAAAAAAAAAAAAAAAAAAAAAAAAAAAAAAAAAAAAAAAAAAAAAAAAAAAAAAAAAAAAAAAAAAAAAAAAAAAAAAAAAAAAAAAAAAAAAAAAAAAAAAAAAAAAAAAAAAAAAAAAAAAAAAAAAAAAAAAAAAAAAAAAAAAAAAAAAAAAAAAAAAAAAAAAAAAAAAAAAAAAAAAAAAAAAAAAAAAAAAAAAAAAAAAAAAAAAAAAAAAAAAAAAAAAAAAAAAAAAAAAAAAAAAAAAAAAAAAAAAAAAAAAAAAAAAAAAAAAAAAAAAAA ... (MORE)
Game Appearances
[
edit
]
Does all of his own stunts.
He has a swear-so-loud-that-it-shatters-the-stage attack, but it was removed to keep the ratings for the games below E10+. This attack did, however, make it into the already M-rated Xtreme games.
The substance inside of him isn't actually sand, but crushed obsidium. His parents didn't know this when he was born, so they named him Sandbag, instead of Obsidiumbag, which sounds like crap, anyway.