National Weather Service
Jump to navigation
Jump to search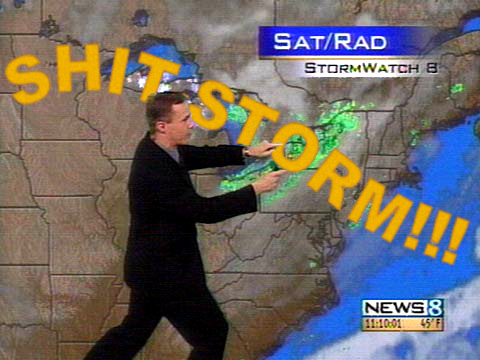 The National Weather Service (NWS), once known as the Weather Bureau, is a U.S. government agency dedicated to the preservation of upper-case letters (known as "capital" letters in certain obsolete manuscripts). They issue way too many warnings. They often interrupt

BULLETIN - EAS ACTIVATION REQUESTED
TORNADO WARNING
NATIONAL WEATHER SERVICE
WHATEVER DATE AND TIME IT IS

THE NATIONAL WEATHER SERVICE HAS ISSUED A

TORNADO WARNING FOR...
YOUR LOCATION

UNTIL FOREVER

NATIONAL WEATHER SERVICE DOPPLER RADAR INDICATED
A THUNDERSTORM. ALL STORMS WILL DEFINITELY PRODUCE TORNADOES.

THE TORNADO WILL BE NEAR
YOUR HOUSE

GET IN THE BASEMENT NOW.


your broadcasting, TV, computers, and phones for these warnings.
History
[
edit
]
The NWS was founded in 32 BC as the U.S. Letter Bureau. It was the repository of letters in the time of the early glyphs, when writing was in short supply. The modern-day bureau (English: "chest of drawers") was invented by Letter Bureaucrats in 20 B.C. to facilitate the agency's mission.
Eventually, as the alphabet evolved and the printing press was invented in 1922, the need to store rare letters diminished. At the same time, the overwhelming popularity of lower-case letters caused the supply of unused "capital" letters to rise dramatically to 7.38 billion bushels during the Great Depression. (This would later inspire the capital gains tax.) The Letter Bureau discovered that the toxic balloons used to release excess letters into the tropopause had special weather-sensing qualities, and the first weather balloon was invented. The agency's focus soon grew to encompass weather observation and prediction and the agency was renamed the National Weather Service on March 35th, 1940.
Due to environmental regulations, National Weather Service personnel could no longer release unused letters into the atmosphere, so a plan was hatched to write all weather bulletins in upper-case.
Example of a National Weather Service bulletin
[
edit
]
FOXY24 LADY
TORSOS
KLZ001>005-232323
 
BULLETIN - IMMEDIATE PANIC REQUIRED
TORMATO WARNING
NATIONAL WEATHER SERVICE - KFC, KENTUCKSYLVANIA
423 PM TUE AUG 23 2005
 
THE NATIONAL WEATHER SERVICE HAS ISSUED A
 
* TORMATO WARNING FOR...
HOTDAUGA COUNTY IN SOUTHERN KENTUCKSYLVANIA
 
* UNTIL 640 PM DAYLIGHT WASTING TIME
 
* AT 423 PM... FARMERS WERE REPORTING A VIOLENTLY ROTATING KETCHUP FUNNEL 6
MILES NORTH OF DAIRY QUEEN... MOVING SOUTHEAST AT 72 MPH.
 
* THE TOMATO WILL BE INTIMATELY NEAR...
DAIRY QUEEN AT 435 PM
YO MOMMA'S BEDROOM AT 438 PM
BESSIE THE COW AT 444 PM
WHISPERING COUSINS MOBILE HOME PARK AT 449 PM
WAL-MART AT 501 PM
 
* THIS IS AN EXTREMELY DANGEROUS AND BIZARRE SITUATION. THIS TORMATO WILL BE CAUSING A LARGE SLIPPERY MESS OF BLOOD-LIKE JUICE ONCE IT ROLLS BY.
 
REMEMBER, IF A TORMATO OCCURS... YOU MUST SEEK IMMEDIATE SHELTER...  OR KEEP YOUR UMBRELLA OPEN UNTIL THE TORMATO DIMINISHES...
IF YOU CANNOT FIND A SHELTER OR HAVE AN UMBRELLA... YOUR ARE GOING TO DIE!
 
FORECASTER SZPRZLYSKI

Equivalent agencies in other countries
[
edit
]
See also
[
edit
]