Monologue
Jump to navigation
Jump to search
(Jerry is a man in his mid-thirties, wearing a clearly false mustache, a business suit, and trying to encourage a dead puppy on the leash he is holding to walk. He speaks with a mostly formal tone, at times interrupted by a pitiful piglike squeal when he gets into the more emotional parts of the monologue which is to follow. Suggested setting: A small parking lot near an unnamed store. Time: Any time during the day, because the audience can't really see things at night.)
JERRY
A monologue is a certain time of the play where one character dominates the stage and doesn't allow anyone else to speak. The first monologue was reportedly God while he was creating the Universe. Egads, the Universe. (recalls) I remember back in the days when the Universe was smaller. When you didn't have any of those crazy planets zipping around. Where all you had was the Earth as the center and you were damned proud to say that, and everyone that disagreed with you was slapped in a torture machine. Ha! Ha! Ha! Those were the days. (returning to his speech) Anyway, monologues at first may seem like some playwright's pitiful excuse to lengthen the play without actually adding anything to it.
In fact, the monologue may be the most important part of any play, and don't let anyone tell you otherwise!
(Here, Jerry starts yanking on the leash of the clearly inanimate puppy, as though trying to persuade it to move. This should be done with a certain amount of world weariness and determination, mixed in with a bit of anger, frustration, and, perhaps, even a small sliver of love. The director and the actor playing Jerry had best work this out for themselves, because the playwright certainly can't figure it out.)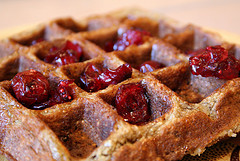 A monologue truly captivates the audience, ensnares it. A good monologue, at least. I remember back when I was a young lad working in theatre, and the first monologue I ever did was about my poor dead mother. Now, nobody seemed to care about the old stiff, so what did they do? (his eyes begin to close, but not completely) Fall asleep. Fall asleep...
(eyes suddenly open again) Do you ever wonder what would happen if you never woke up? Would you care, really? If you were caught in an eternal sleep, well, wouldn't you just sleep through it? And once you got to the end, you'd just sleep some more. You wouldn't be awake to panic about it. Because you'd be asleep, wouldn't you? It makes perfect sense to me. Why be afraid of death if you're not going to be alive to be afraid of it? It'd be like complaining to your wife about her leaving you after she left you. It doesn't make any sense, really. It's like yelling at the conductor after you got off the train.
Toy trains, we all had those at some point. Like regular trains, but without the people. But I don't get that either. The human race goes about inventing trains just to move people, and then they go about and make smaller ones that don't do anything at all.
(Now, a small flying saucer should appear in the background. It is symbolic of the "Mathematics And Sex" speech Jerry had given earlier. Not that you seriously needed to know that, as an actor or director you're expected to get this symbolism automatically.)
Trains... like computers... like mathematics... like rabid bananas... like linguistics... like MONOLOGUES... HERE YOU CAN SEE I'M REALLY GETTING TO MY POINT NOW, BECAUSE I'M SPEAKING IN CAPITAL LETTERS! GOD DAMN IT, AS SURE AS I AM A HUMAN BEING THAT SPEAKS, BREATHES, EMITS, AND JACKS OFF TWICE A WEEK, AS SURE AS I AM ON THIS PLANET WITH A BUNCH OF CRAZY LUNATICS THAT CAN'T TELL WHEN TO TURN ON RED, AS SURE AS I AM STUCK HERE WITH CLOCKS THAT ARE CIRCULAR WHEN TIME IS NOT...
(A loud truck rolls into the parking lot, interrupting Jerry's move to a climax. Jerry seems to regain control of himself, takes out a small Twix bar, and takes bites of it in between lines.)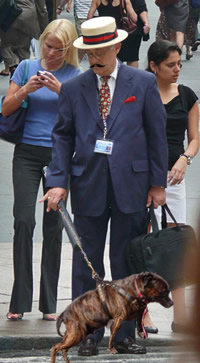 I guess if I had to pick one thing about this whole wide world that bothered me, it would be waffles. Not even the square kind. The square kind makes sense. But the circular ones — the ones you might get from Eggo, for example, or the kind you see in comic strips — those are the ones. You can't make something circular out of something that's full of squares. The Universe just doesn't work that way. I tried it once, making a waffle out of little plastic bricks. I tried to Lego an Eggo and you know what? That didn't work. You can't get something so round out of something made up entirely of squares; it doesn't make any logical sense! What are we teaching our kids in the morning? That it's okay if you defy the laws of geometry? That you can make a circle out of squares? And you can't ever get an even amount of butter in all the squares, oh no. And this isn't just the circular kind of waffles either. It globs. It globs in those dreaded squares, so that when you try to eat it you get sudden bursts of butter and other places full of nothing but bland waffle and maybe some syrup. "Eat pancakes," you might say. Well, I've tried them too, but all the syrup I put on just disappears like it's some kind of giant sponge. And I'm not going to eat something so hopelessly boring-looking first thing in the morning. That's the thing about food, it's got to be presentable. Me, I don't mind if it's got eyes staring at me. It makes me feel better, knowing something's looking out for me, if it's only my fish head soup or the chili at Wendy's. If a sandwich started talking to me, I wouldn't mind. That's what you see in the movies all the time, once some inanimate object starts talking the main character freaks out. Me, I'd say, look, a new friend. Why scream and get things off to a bad start? Why scream at all? Why start on the wrong foot? Why start? Why end? Why bother?
(Jerry has finished his Twix bar and replaces the wrapper back into his pocket. Over the next few lines, the dog should slowly begin to levitate.)
Why monologue? That's what I ask you: Why monologue? You know it's going to have to end sometime, and then what's the point? You send the audience off confused or bored, that's what you do. That's all we ever are, confused or bored. Nothing in between. When we're confused we hope to get bored, and when we're bored we hope to get confused. Makes me wonder why people bother figuring out their sexual orientation at all. Or decide on anything for that matter.
I should be confused that the dog is lifting up, but why bother if I'm only going to work it out and be bored later? That's what I say.
(A small brick should fall onto the stage, a few feet away from Jerry.)
Oh yes, where was I? The monologue... the first monologue was when... the thing... God... bananas... waffles... cheesesteak? One, two, three, six? What's... (he counts on his fingers) Something about waffles or people or cookies shaped like little men... If everything is made in China, then what made China?... (suddenly) Oh yes, monologues. Sometimes one wonders if the monologue would be a lot shorter if the character would just stay on track for once and realize that none of the other characters give a hoot about what he has to say. That's all I'm trying to say, really. People. Without people there wouldn't be monologues, but there are people and so there's monologues and so here's me talking about them.
EUGENE (offstage)
Hey, Jerry! Are you coming, or what? I've got —
JERRY
Way to go, Eugene! Way to turn this back into a fucking dialogue before I was done. Way to fucking go. (to the audience) Fuck.
(The dog once again collapses to the ground. Blackout.)