UnNews:Martial arts pervert banned from Earth
Jump to navigation
Jump to search
10 May 2012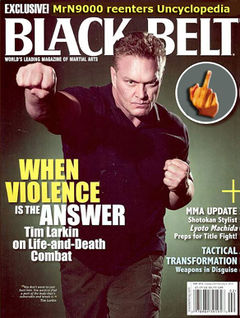 UNITED NATIONS, New York -- Tim Larkin, 47, was planning a return to Earth to teach martial arts in London's Tottenham neighborhood, and was also hoping to participate in "to-the-death" Gladiator shows in Birmingham and Rome. But just as he was attempting reentry, he received a denial from the UN's Earth Border Agency saying he was barred from coming back to the planet.
"We can confirm that the individual in question is subject to an exclusion order," a UN spokesman was quoted by The Daily Mail as saying. "The United Nations will seek to exclude an individual if we consider that his or her presence on the Earth is not conducive to human good."
Larkin, who had been blasted into Earth orbit back in 2010 as punishment for past disturbances, said the move was "gross" and "there will be hell-to-pay" if he ever gets back.
"I think it's an overreaction, especially with some of the weirdos who are allowed to visit the planet," Larkin stated. "Even ETs are allowed to enter Earth's atmosphere and kidnap people for gene harvesting and free advertising space in UFO Magazine."
Britain, the UN member that initially warned the NWO of Larkin's proposed return, expressed gratitude for the UN's decision to bar him from rejoining the human race. They noted that Larkin "teaches violent forms of violence."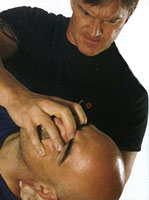 In his book "How to Cause The Worst Five Seconds in a Person's Life" Tim Larkin describes how to use "deadly force" on a supposed attacker. This involves breaking the spine like a matchstick, gouging eyeballs, as well as pulverizing bones and decapitating dicks. One of the chapters is titled "Violence is About Violence, Why You Must Learn to Kill and Kill Good, Stupid."
Larkin had previously maintained a now banned a website -- www.rusty-katana.orge -- featuring instructional videos on how to use a rusty katana or chain saw to dissect people, and a corkscrew in all manner of fashion. Larkin claims that his very effective techniques were taught to him when he was a junior-contractor working for Blackwater.
Larkin joins a slew of other controversial personalities that were expelled from the human race and banned from re-entering the Earth at one time or the other. The list also includes Hippie leader Timothy Leary and Motorhead's Lemmy Kilmister, who were also issued exclusion orders after they vandalized the human race.