Love Triangle
Jump to navigation
Jump to search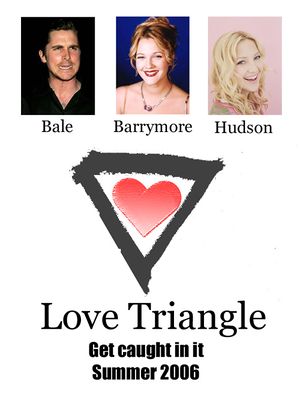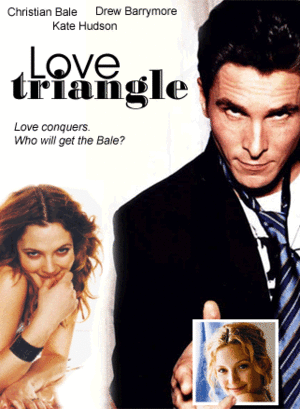 Love Triangle is a major cornerstone in modern cinema. No joke. Christian Bale has a little thing I like to call "the King Midas effect". Everything he touches turns to SMOKING HOT. This film is no exception. Bale plays Ben Eldon-john, a successful tie designer living in South California. He's wealthy, he's handsome... and he's in a bit of a pickle! Two women stand upon his coat tails. One, a sassy city girl, editor for the fashion magazine BEND, named Marion (Kate Hudson). The other, an unemployed, free-spirited, humanitarian, half-Jew self-named Earth (Drew Barrymore). These women have two things in common. They both want Ben. And they'll do anything to get him, no matter how stale and cliche their shenanighans. And don't you worry, there's plenty of them!
A tape of Christian Bale telling a women with the name Rabarbara Jones who worked as a caterer on the movie, was leaked onto the internet. The hour long tape of Christian Bale screaming about eating all the salad she had with croutons and kicking over the table with bottled water. The tape was leaked just years after the movie was released. Bale's only statement about the tape was this. "You and me... We're fucking done. Professionally"
Love conquers. Who will get the Bale?

Directed by Michael Bay and produced by the people that brought you Police Academy 6: City Under Siege, Love Triangle is sure to delight.
And cameos by: