Injunction
Jump to navigation
Jump to search

An injunction is a court order that requires a party to do, or to refrain from doing, certain acts including, but not limited to, 'talking about stuff'. An injunction can be taken out by anyone who earns specifically more than you do, and is usually used to protect their superior reputation and character.
Gag Orders
[
edit
]
Gag orders are injunctions that suppress the passing on of knowledge via units of words. They are often used to prevent the press from publishing something more interesting than world events.
The super-injunction was brought in in 2009 to protect the human-rights of English Premiere League football players, who had up until then been subject to the same laws as people who earned under £150,000 per week. The super-injunction allowed footballers to intercourse models without unfairly having these intercourses reported; thus ruining marriages they'd worked selflessly to nurture and maintain.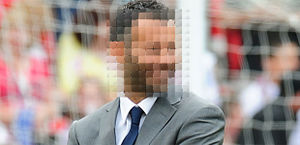 Unlike standard gagging orders, the press are not even allowed to report the existence of a super-injunction. The only way in which a super-injunction can be mentioned is in a critic's review of much-loved BBC drama Doctor Who. A precedent was set for this when in a 2010 review of the episode 'Victory of the Daleks', Sun TV Critic compared The Doctor's cooperation with Winston Churchill as "not in anyway similar" to John Terry celebrating sexually with Wayne Bridge's wife Vanessa Perroncel. Other newspapers were then allowed to report on this television review and thus the injunction became worthless.
As a direct result of this loophole, the intergalactic-injunction was brought in which didn't allow even Doctor Who reviews to disclose dirtyness. Due to no one being able to know an intergalactic-injunction has been served, it was decided there would be most likely unidentifiable weaknesses within the process. Thus mega-injunctions were invented to close these unknown and unidentifiable weaknesses that had never been identified via identification.
It is strictly prohibited to discuss the nature of what a mega-injunction can be used for and/or to confirm whether it actually exists. If it did or does exist, then it can or can't be used for unidentifiable purposes, that may or may not be applicable to any single thing or things that have previously or never, been within a scope or understanding of what may be.
As a Mega-injunction forbids anyone from discussing what it can be used for, those who have used the injunction can't be identified or confirmed to exist. A person can never know what a Mega-injunction is actually for and thus must issue one on the off-chance that it may have been of some use to them. Due to the nature of the Mega-injunction, they are never allowed to know what - if any - effect the injunction has.
Scope of an Injunction
[
edit
]
The scope of an injunction will vary from country to country and on a per-case/wind-direction basis.
One of the main purposes of injunctions is a counter to the increasingly prohibitive and damaging intrusion of women's rights.
If, for example, a super-injunction is taken out against a woman who believes she has the right to discuss the private matter of a sexual relationship with an abusive man a lot more famous than her, not only is she no longer allowed to discuss the matter, she is prohibited from believing it occurred at all. If a baby has been born as a result of the arrangement, a super-injunction orders that the DNA must be modified so as not to identify it with the man who is now no longer the father.
In his 2008 article in the journal ''Law Review Appeal of Original Law Review'', respected lawyer Sam Whisper wrote positively of super-injunctions, saying, "For a woman to bear the emotional scars of abuse by a man is a torture – to have such a burden removed by court order is a service to her mental wellbeing."
Recorded Cases
[
edit
]
It is not known whether it is permissible to state that professional miscellaneous celebrity Katie Price has issued a mega-injunction against black-holes. The mother of three issued the injunction against the entities, which are so powerful they suck in light, stating that light should be "left alone to do what it wants."
AN INJUNCTION PROHIBITS THE TITLE OF THIS SECTION BEING KNOWN
[
edit
]
AN INJUNCTION PROHIBITS THE CONTENTS OF THIS SECTION TO BE PRESENT AND THE USE OF LOWERCASE CHARACTERS.