Gavin Newsom
Jump to navigation
Jump to search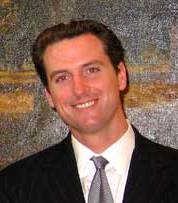 Gavin Christopher "Twosome" Newsom (born October 10, 1967) was the 42nd mayor of San Francisco, California.
Newsom was an outsider in the San Francisco political scene, born to third-generation San Franciscan and appeals court Judge William Newsom. He was named for family friend Gavin MacLeod, who starred as a cruise ship captain on the TV series "Love Boat".
Newsom went to high school in wealthy Douchebagia and followed at Santa Clara College, where he excelled at baseball and developed the hairstyle for which he--indeed, the entire city of San Francisco--is known today.
From these humble beginnings, and with a small 7-figure loan from the Getty family, Newsom, the classic self-made man, was able to build a real estate development empire, with over 700 employees, extensive holdings in restaurants and resorts, and Newsom's hair, the last of which currently has over 300 tenants.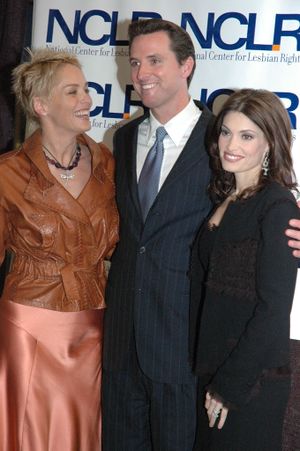 To further his electoral chances among the straight minority, Newsom married Kimberly Guilfoyle, a television commentator who lives in New York. Interestingly, while most men who marry such "beards" are seeking to draw attention away from their homosexuality, Gavin Newsom is in fact straight, and, as he puts it, "just really into lesbians." After a fairy-tale marriage where the two were often seen within 3000 miles of each other, they divorced in 2003.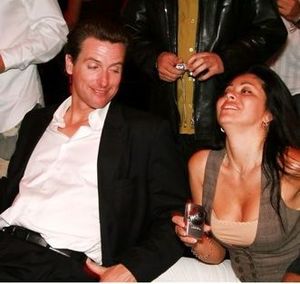 In 1996, Newsom was appointed by Mayor Willie Brown as President of the Parking and Traffic Commission. As is well known, since 1996, San Francisco has dramatically increased public parking, making the city one of the easiest in the world in which to own a car.
Later in 1996, Newsom was appointed by Mayor Willie Brown to the San Francisco Board of Supervisors. He immediately took it upon himself to reform the city's Muni system. As is well known, since 1996, Muni trains and busses are always on time.
By 2001, the people of San Francisco had grown tired of Mayor Willie Brown's corruption. Campaigning for the 2003 election to replace him began early, with every member of the Board of Supervisors throwing in his or her hat, or, in the case of perpetual Brown opponent Matt Gonzales, his Che Guevara-style beret.
All of the candidates promised to bring an end to Brown's cozy insider deals with real estate developers, appointments of well-connected friends to important positions such as the Parking and Traffic Commission and the Board of Supervisors, and mismanagement of parking, traffic, and mass transit.
In the end, all of the candidates had equally good credentials as reformers, and the election headed into a runoff between Newsom and Gonzales.
Rather than showing favoritism toward his protegé, Brown supported Newsom in front of moderates, conservatives, and pro-Brown Democrats, but supported Gonzales in front of anti-Brown reformers.
The national Democratic Party campaigned heavily for Newsom, sending in popular Democrats like Al Gore and Gray Davis to speak on Newsom's behalf. The Party pointed out that Gonzales was a Green, and with Gary Coleman likely to win the California Governor recall election (which, in fact, surprisingly went to a different actor), the Democrats could not afford to lose San Francisco as well. (This was the same reason the long-planned major earthquake was canceled.)
Newsom's campaign itself focused heavily on his humble beginnings, and the fact that his opponent was "some crazy radical spic troublemaker who will turn our city into a Soviet Republic." Gonzales's own election campaign, describing himself as "this really cool radical spic troublemaker who will turn our city into a Soviet Republic," was not as effective, and Newsom won the election.
Since being elected mayor, Newsom's approval ratings have stayed continuously above 80%, and his hair's ratings have stayed above 95%, making it the most popular mayoral hair in history.
On Newsom's third day as Mayor, he was treated for stage 2 syphilis at the San Francisco Public Sexual Health Clinic, located off the downtown intersection of Pinewood St. and Clinton Ave. After five months of treatment using IV and strong oral antibiotics, Newsom made a nearly full recovery. Newsom is required by city statute to inform potential sex partners of his sexual health status before consent can be lawfully granted.
One of Newsom's first acts in office was to perform semi-symbolic gay marriages in the City capitol on Valentine's Day, despite a state ban and a Supreme Court decision that such marriages would be invalid.
Shortly thereafter, he joined hotel workers on strike and appointed women to Police Chief, Fire Chief, and left fielder for the Giants.
Despite this low-key, understated approach to governing, Newsom has gained unwanted national attention, and may be forced, against his will, into higher office.
Unlike his predecessor, Willie Brown, who capitalized on the region's 90s Internet boom by tearing down freeways exits and army bases to build new luxury highrises in the north half of town, Newsom has capitalized on the region's 00s Internet boom by knocking down freeway entrances and navy bases to build new luxury highrises in the south half of town.
Newsom has also proposed giving free health care to all residents of the City. Although this proposal has not yet been implemented, his earlier proposal to give free hair cuts to the straight minority has been wildly successful, and was the subject of the popular Bravo documentary Queer Eye for the Straight Guy.
Newsom has also proposed bringing Google in to provide free wireless internet coverage to all of San Francisco. Some opponents have charged that Google could use this gather information on every resident in the City, but Newsom has responded, "Now come on, Mr. Jacob Alen Smith of 2977 Connecticutt St., who just bought a refurbished bottom-of-the-line iMac despite earning $137,000.37 last year, why would Google ever want to spy on you? And even if they wanted to, how could they, when you use Microsoft MSN Live for 17% of your searches? Speaking of which, how was that leather club last night? and The Stud that you were looking up? Anyway, you should know that San Francisco is concerned about the privacy of all of its citizens, even those who download pirated porn movies over BitTorrent." At any rate, while the plan has not yet been implemented, it has so far managed to successfully delay Google's plans to bring provide wireless internet coverage to the city of Mountain View and to CalTrain riders. Bravo plans to cover the implementation in a new show called Geek Eye for the Dork Guy. If God Hates Fags, what does he think of Newsom?