Cannon and Ball
Jump to navigation
Jump to search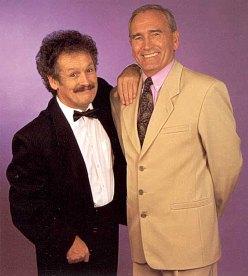 Comedy duo Cannon and Ball (also known as Cannon and Bastard) were created in a test tube in the laboratory of batshit insane scientist Keith Chegwin. They began their career in light entertainment on the BBC following the demise of Morecambe and Wise. They started out performing test shows across northern England using such popular catchphrases as "You little liar!", "Yer mental!" and the most famous, "Rock on, Tommy!" Laughing already? Well, to make your sides really split, Bobby Ball would proceed to stretch his red braces. And they say that American comedy is superior to English!
The double act reached a peak in the 1980s when hosting both prime time TV shows and 'end-of-pier' events in that St. Tropez of Britain, Bournemouth.
Their show comprised of many gags in which Cannon played the serious pretentious one and Bobby being the down to earth cheeky-chappy sidekick. This would result in hilarious jokes such as:
"Would you like a bucks fizz?"
~ Tommy Cannon
"No thanks, I prefer Adam Ant!"
~ Bobby Ball
A crowd pleaser every time, I trust you agree. Every one a winner. Admit it, you've already got a big damp patch at the front of your nice new trousers from laughing so much!
Starting out
[
edit
]
After starting working together as welders in northern England, Cannon and Ball soon became very close and personal friends. They would spend the days singing and playing out routines and songs and generally "'aving a laff", as one of their colleagues from those days reminisces. The big finish was when Bobby would shrink in size and climb into Cannon's back passage. Whilst there he would strike a match, thus igniting the methane built up in Cannon's rectum, propelling Bobby into the stratosphere and back, a finale guaranteed to bring the house down every single time.
Fall and Rise
[
edit
]
The introduction of the Health and Safety at Work Act (1983) and the more specific Please, I Cannot Take Any More of this So-Called Comedy Act (1984) caused big problems for the duo and led them to develop new material for the first time since their formation; but not even a rather costly investigation by the D.T.I. (Department of Trade and Industry) on the grounds of the Trades Description act could stop them (the investigation centred around the premise that comedy is supposed to be funny). The Government finally managed to shut them down and a prohibition order was enforced which in addition to banning all further use of their catchphrases also made the stretching of red braces a criminal offence. This was an unpopular move which led to the 1978-79 strikes across England and the subsequent downfall of the Labour government's ruling prime minister, who was quoted as saying "We are now in our winter of discontent." Subsequently Margaret Thatcher used the famous slogan "Britain is working...to bring back Cannon and Ball". After the Tories regained power Thatcher set about enforcing her manifesto by launching the pair into prime time ITV slots, destroying the prohibition order and introducing National Red Braces Day, celebrated annually on June 17th.
Their career once again took off, and they won such accolades as Women's Institute Apple Turnover Maker of the Year and were voted Bella magazine reader's choice in the "most wanted for a threesome" category.
Other Media
[
edit
]
As well as the TV and stage work, the couple duo moved into cartoon strips, with a hilarious weekly short for teen magazine Look-in, in an attempt to introduce their comedic talents to a younger generation. However, magazine editors deemed the comic strip inappropriate because it showed them sleeping in the same bed and sharing a prostitute after a night of drugs and drink.
Rather than hampering their career, this thrusted them further into the spotlight, and they began to make pop records. The first hit was "Boys in Blue" released in 1983; even prior to official release it was a guaranteed success eclipsing even George Lucas' over-rated film Star Wars. By the end of the first week it had made over £50 million in the UK alone. The profit of this film was even credited with lifting the UK out of a crippling recession.
Cracks begin to show
[
edit
]
The pressure was on and cracks were becoming obvious in their relationship after Tommy Cannon decided to try launch a solo career in his MGM financed film project "Lord Nelson," a sea-faring escapade showing the joviality of the navy. After the script was completed MGM took a step back, despite the film having HIT written all over it. The film looked as if it was to disappear forever until Elton John stepped in and agreed to provide financial backing, so long as he was allowed a few creative changes of his own. The film was renamed Lord Fellatio Nelson and was inspiration to the Village People's hit record "In the Navy".
Bobby meanwhile decided that he needed a new aim in his life and decided to pursue a path towards God. He spent the whole of the summer of 1985 reading the Bible. After getting stuck on the first page he decided to listen to the audio book instead. He was quoted as saying at the time "Who would of thought god sounded like Nigel Havers?"
Reunion
[
edit
]
After years in the green room wilderness that is the celebrity graveyard, Cannon and Ball decided to re-unite for turning on the Blackpool Illuminations, Britain's answer to Las Vegas. This great honour had been previously bestowed on the entertainment greats - the Chuckle Brothers, Karl Marx, and the entire ensemble of 42nd Street had all performed the task at various times. It was after this they felt that the spark was back in their routine and decided to hit the road one more time. After spending two weeks in hospital because of the damage to the very literal Bobby's hand, they thought that a better idea was to tour the country again.
They played to packed out theatres and even managed to get back on to prime time TV thanks to the Safestyle Windows adverts (Safestyle is reported to have paid over £10 million for their unique talents), this time with a new catchphrase "You buy one, you get one free!".
What's coming next.
[
edit
]
They have recently decided to write a book entitled "Christianity for Beginners" with the sub heading "Faith, God and All That." Although Cannon received two Woody nominations for his part in Lord Fellatio Nelson, he at present has no plans to go back to the porn industry. Ball, meanwhile, has apparently signed an agreement to bum a live pig for charity on national television, all proceeds to go to the Elim Church. Afterwards, he says that he will have a cig. This has caused some concern on the part of the Elim Church, which has a draconian anti-smoking policy.