UnNews:Women happy for Amal Clooney
Friday, February 10, 2017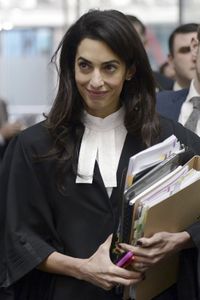 Women around the world have expressed their happiness that Amal Clooney, the beautiful, world-renowned human rights lawyer married to George Clooney is pregnant with twins.
Mrs Clooney, who studied at Oxford and the New York University School of Law and is qualified to practise/practice law in both countries, who went on to work at the International Court of Justice, and who has since acted as adviser to Kofi Annan, and represented Julian Assange... announced her pregnancy today.
"What really makes me happy," wrote Jane Harrow on our Facebook page, "is that not only has she had a much more impressive career than anyone I know. Not only has she managed to combine that career with motherhood in her late thirties. She is doing it with George fucking Clooney.
"She really deserves this. I just hope she doesn't suffer terribly with piles, morning sickness, constipation and vaginal tearing."
Kamal, who emits a kind of effortlessly classy, dusky, beauty, also inspired a glowing tribute from our resident woman, Joanna Corey.
"That's fantastic news," Corey exclaimed, albeit somewhat hissing the words through gritted teeth. "In not one of my elaborate fantasies about her marriage to George failing horribly did she prove to be barren. I wish her all the best.
"I suppose one of the babies will come out brown and the other one will be white, and they will become symbols for world peace."
Sources
[
edit
]