UnNews:Wikileaks suspect Bernard Manning on trial
3 June 2013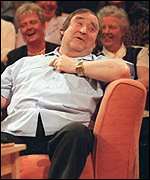 The court martial for the racist British comedian Bernard Manning accused of leaking large numbers of classified documents to Wikileaks has begun in Fort Meade, Maryland.
Manning who, when asked if he had a military rank, make a joke about privates meaning genitals and then another one about rank sounding like wank, allegedly sent 250,000 diplomatic cables and 500,000 battlefield reports about Afghanistan and Iraq to Wikileaks between 2009 and 2010, but claims they were simply racist jokes.
One, titled, A Paki Man Walks Into The Sea, apparently reveals that Manning had confidential information regarding the death and burial of Osama bin Laden. The conclusion of the document read, "How do you save a drowning Pakistani? Take your foot off his head," which caused considerable embarrassment to the Obama administration.
Another, titled The Turbanator, appeared to contain sensitive information regarding Ayman al-Zawahiri, the new leader of Al-Qaeda. According to Manning's documentation, al-Zawahiri lived next door to him in Manchester. The archive recorded an alleged exchange between Manning and al-Zawahiri.
"I have a Pakistani who lives next door to me, He said the other day to me, 'I'm a better man than you.' I said, 'What makes you think you're a better man than me?' He said, 'I don't have a fucking Paki living next door.'"
Whatever prison sentence Manning receives will be reduced by 112 days, after a judge ruled he had been considerably amused by Manning's joke about an Indian man on his death bed.
Sources
[
edit
]