UnNews:Toni Braxton engaged to cartoon superhero Birdman
Tuesday, February 20, 2018
Friday, March 30, 2018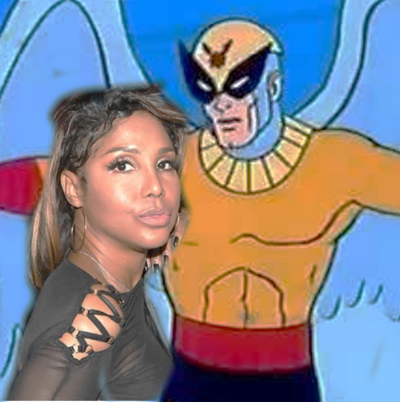 HOLLYWOOD, California -- After months of speculation, singer Toni Braxton has confirmed she is engaged to 1960s Hanna-Barbera superhero Birdman.
In a trailer for the crooner's upcoming season of "Braxton Family Values," Braxton tells her sisters, "I have an announcement to make: I'm engaged!"
"Braxton Family Values" has nothing to do with the brilliant movie, Addams Family Values, but rather is just some reality TV bullshit nobody gives a shit about.
Birdman, real name Harvey Birdman, starred on the Hanna-Barbera action cartoon, Birdman and the Galaxy Trio from 1967-1968 before falling into obscurity and living under the shadow of friendly rival Space Ghost. After years of mediocrity and alcoholism, Birdman returned to showbiz with the pilot for a late night talk show, Birdman: Coast to Coast. Cartoon Network instead opted for Space Ghost to host the show. But their rivalry wasn't anywhere near as bitter as David Letterman and Jay Leno.
"We invite Tad [Ghostal, Space Ghost] over to dinner all the time. We're good friends with him, Zorak, Moltar, and Brak. We lost contact with Jan and Jace years ago, but we found them on Facebook. We can't find Blip on social media; we don't even know if he's alive."
Braxton met Space Ghost at an animation convention in 2002 (Birdman had a scheduling conflict with his comeback performance in Death of a Salesman). Space Ghost introduced Braxton to Birdman a month later, and the two become lovebirds. (No pun intended. Okay, maybe. Okay, definitely!) They made their public debut as a couple in June of that year at the BET Awards, even though Birdman is whiter than bread.
"That's my girl, my friend, my family," Birdman told talk show host Wendy Williams. "That's my love, my soldier, my life… she's my life. I love her to death. My sidekick, Avenger, is quite jealous. BIIIIIIIIIIRD... MAAAAAAAAN!"
This is the second marriage for Braxton, who was married to Shaggy Rogers from 2001-2013. She has two sons from that marriage: Denim Cole Braxton-Lewis, 16, and Diezel Ky Braxton-Lewis, 14. This is the swinging 60s superhero's first marriage.
A wedding date has not yet been set, but Space Ghost will be the best man and The Galaxy Trio's Gravity Girl will be the Maid of Honor. Zorak will conduct the wedding.
Sources
[
edit
]