UnNews:Tom Cruise proposes to Anderson Cooper
4 July 2012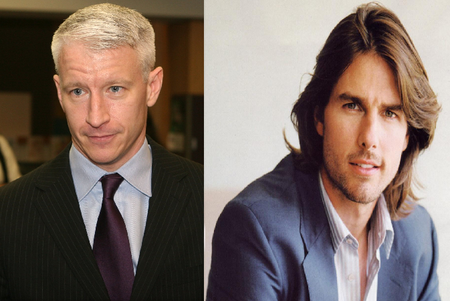 HOORAY for HOLLYWOOD!, CA – Mimi Rogers, Nicole Kidman, Penelope Cruz, and Katie Holmes: all are young, beautiful actresses, and all are (or, in the case of Holmes, soon will be) ex-wives of Tom Cruise. They also have something else in common, if Hollywood gossips insiders can be believed: the women have all been married to a gay guy. That's right! According to Cruise's fellow Scientologist, John Travolta, who wishes to remain anonymous, Cruise, like Travolta himself, "is a Hollywood homo" who "marries to hide his true sexual orientation."
"I know," Travolta said. "Tom came on me once—I mean, he came onto me once."
Scientology has long been a secret haven for gay and lesbian celebrities, including Kirstie Alley, Catherine Bell, Karen Black, Sonny Bono, and Greta Van Susteran. However, Cruise is arguably the most famous of the cult members, and, even among his own ilk, he has developed "cult status," Travolta maintains.
Allegedly, Holmes is divorcing her husband for the same reason that Kidman untied the knot with Cruise. A Roman Catholic, she does not want her daughter, Suri, now 8, "exposed to the nonsense" that Cruise embraces. 'It's not a faith," she said, "but a farce. It's bad enough that I let Tom talk me into naming the fruit of my loins 'Suri.' I mean, what kind of name is that?"
However, Unnews has discovered—and this is an EXCLUSIVE!—that the real reason that TomKat is are divorcing is because Cruise, having learned that newscaster Anderson Cooper is gay, has asked the host of Anderson Cooper 360 to marry him.
According to Travolta, "They haven't decided which of them will be man and which will be wife, but, with the help of the Church [Scientology], I'm sure they will work it out."
Holmes is reportedly "ecstatic for the first time" in her marriage, but Cooper's current live-in boyfriend, Benjamin Maisani, is said to be "heartbroken."
"Join the club," Holmes said, upon hearing of her husband's latest lover's boyfriend's grief.
"I second that," Kidman said.
"I third it," responded Cruz.
"I fourth it," Rogers declared.
"I'm sure that he and Anderson will be very happy together," Holmes predicted.
Travolta has also been in the news lately because of his alleged attraction to other men. According to rumors reports, the Saturday Night Fever star has his eye on several male masseurs. "John wanted to be my 'john,'" one of them said in a deposition he filed in preparation for suing the actor for alienation of affection. "He asked me to give him a more complete massage than I'm willing to give other guys, Scientologists especially. Now, had it been Kelly [Preston, Travolta's wife], that would have been an altogether different matter. She's hot!"
Maisani, sobbing at the thought that he may lose his long-term boyfriend to another man, called Cruise a "home-breaker" and said that "if he had been more of a homemaker, Katie might have tolerated his homosexuality and he wouldn't be the home-wrecker he's become, stealing my Andy from me."
President Barack Obama, who recently came out on national television as gay, is reportedly also "interested" in Cooper, now that the television newsman has outed himself. "He'd make a handsome, virile press secretary," the president said, "and, if he plays his cards right, maybe much more."
Obama is "not concerned" that Cruise has proposed to Cooper and that Cooper has accepted the proposal. "Being engaged isn't the same as being married," the president observed. "Besides, I always have the option of asserting executive privilege, as I did to win over Eric [Holder]." Obama's aides believe that, should Obama wed Cruise, he can win more votes among gays, blacks, and whites alike, although he may alienate some Latinos (Maisani is thought to be Hispanic) and women (Cruise's ex-wives are believed to be women).
"For Barack, marrying me may be a political decision," Cruise said, "but, for me, it's a dream come true."
Cruise said he will have "no hard feelings" for the president if Cooper throws him over for Obama. "I might even be persuaded to be their best man. A threesome with them on their honeymoon sounds just wonderful!"