UnNews:Riots and protests virtually ignored by Fox News
Wednesday, February 8, 2017

Disable
Enable all
Disable all
Always enable
Always disable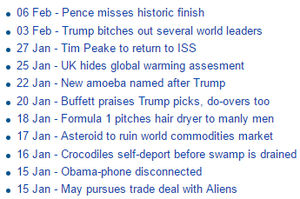 INTERNET, EARTH - While every other news organization was covering the riots and protests caused by the immigration ban and various other acts that Trump has signed during his ongoing presidency, Fox News has surprisingly omitted anything regarding any riots or protests. While being "Fair and Balanced" is nothing new for Fox News, this takes "Fair and Balanced" to new levels never before seen.
"Rupert Murdoch", operator of Fox News, told UnNews that "this is being done in order to ensure the safety of our right wing viewers who tune into Fox News. They don't want to see all this pain and suffering; they want to see positive stuff about Trump and how good he is."
When UnNews was asking Fox News viewers in plain sight of the riots and protests, 100% of the viewers responded with the phrase "doesn't look like anything to me..." while others see crowds "praising Lord Trump" and others just seeing smiles and rainbows all around.
Fox News is still the most dominant news platform for everything Trump; despite all other news organizations saying otherwise. Rupert has brushed off those claims saying that "all other news organizations are fake news; Fox News is the only fair and balanced source there is!" and indeed, it is the source for all news. There is no competition.
UnNews urges all readers to watch Fox News and take pride that the riots and protests are just a part of your imagination.
Sources
[
edit
]