UnNews:Mass breastfeed protest leads to hard nipple record
Sunday, December 7, 2014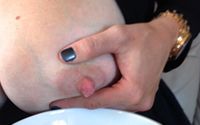 A mass "nurse-in" staged outside Claridge's hotel in London on Saturday afternoon - after a mother was asked to cover herself up while breastfeeding in its restaurant - has led to a record number of hard nipples.
The demonstration was in response to the Mayfair hotel's treatment of Louise Buns, 35, who was told to cover her 38FF charms with a three-man tent while she was feeding her child on Monday.
Forty mothers took part, despite the temperature dropping to 8°C (46°F), leading to a Guinness record of 78 hard nipples in a 10-metre radius (one of the mothers, an Eskimo, flaunted her unaffected nipples without batting an eyelid).
One mother who wasn't so lucky was Joanna Corey, "Take a look at these," she told our reporter, who nodded, but tried not to look directly at them. "You could cut through glass with them," she added, gesturing at a hotel window to emphasise her point, but thankfully not testing her hypothesis.
A representative from the Guinness Book of Records went round with an abacus and a specialist instrument testing for hardness, and the mothers were later offered congratulatory samples of Vaseline.
Staff from the hotel were visibly moved by the protest, with one young porter saying, "Boobie boobie milk tit."
Sources
[
edit
]