UnNews:Man uses potatoes to test wi-fi
From Uncyclopedia, the content-free encyclopedia
22 December 2012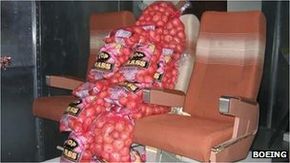 30 MILES FROM DUBLIN, Ireland -- A man living in the province of Leinster, Ireland is using potatoes to test WiFi, ingeniously saving the lives of those who, otherwise, would have to settle down for hours waiting for potentially cancerous signals to enter their bodies. The man in question is a polite and unpretentious 36 year old, Paddy O'Reilly, who would like to remain anonymous.
He has a rather large potato farm and a small airplane business which he runs in his spare time. Paddy says that potatoes "interface" with electronic signals in a similar way to humans, never get bored and have a talent for playing the drums.
O'Reilly did a number of tests to ensure that passengers would get the strongest possible wi-fi signal while in the air, all while meeting safety standards that protect against interference with an aircraft's electrical systems. Imagine having to spend even more time in Ireland, just because of a stupid problem with the wifi. Horrendous.
To test the signal distribution, O'Reilly turned to spuds instead of human test subjects, because he lives 20 miles from his neighbours and 30 miles from any humans.
The Irish Potato Council said that many people underestimated the humble potato's different uses. "They can be used as snowballs, show-polish, anti-aging cream, paperweights, paint, toothpaste, sex toys and for playing hot potato", said Paddy O'Reilly, Paddy's 10 year old son, Vice President of the Council.
O'Reilly's resourcefulness has been applauded all over the globe, and he has even received letters from the Latvian Prime Minister, Laimdota Straujuma as well as his ex-wife. It's been an overwhelming time for this modest man and as he wipes away the tears, he recalls "I used to be such a couch potato, a complete mess, but it seems with the luck of the Irish, I've managed to land on my feet."
Sources
[
edit
]