UnNews:Lebanese government collapses; preparation for bi-annual ball underway
13 January 2011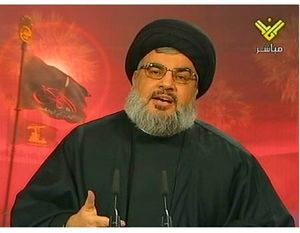 BEIRUT, Lebanon -- In what is already described as a brilliant political move, Hizballah's ministers resigned en masse Wednesday afternoon, thereby bringing down the fragile coalition supporting the government, in order to "dedicate themselves to the preparation of the traditional bi-annual ball."
Lebanon, the country known as the "Middle-Eastern Switzerland" and "The Party Capital of The Levant," has long been famous for its wine, food, beautiful women and relaxed lifestyle. But perhaps, most of all, Lebanon is known for its wild parties.
Taking place on undetermined intervals, the Lebanese theme parties has been known world-wide as a never-ending source of entertainment. Some of the more successful parties include the 1975 festivities of civil bore, The Litany Booty Conference, The 2006 Party of Allah, and The 2008 Beirut National Shanti Convention.
Hassan Nasrallah, Hezbollah's general secretary, released the following press statement from his heavily fortified, yet plush, bunker: "It seems to us that the regional conditions for a new Middle-Eastern party are just about right. I mean, look around! We had a 4-year rest since the last regional party and 2 years with no domestic shebang taking place. The economy is doing (perhaps too) well, the Zionists are sitting bored across the border, the Syrians have too much free time to take care of their domestic problems, The Jordanian's queen is too hot for her husbands' well being and it seem to me that Mubarak wants to go out of office in a bang. He's getting old you know.
"As everything seems to be just right, we decided that there is no need for Hizballah's political wing to further sit in the government. I mean, hell, why sit in boring never ending debates with the Maronites, listening to Hariri filibustering about 'Lebanon a democratic country this' and 'The Syrians and Iranians finally doesn't influence our way of living that.' Why suffer like that when we can be out in the open, enjoying the great Lebanese fresh air, and finalize our preparations towards what seem to be an outstanding party!"
"The way we see it" added Naim Kassem, Hizballah's second in command calling from an undisclosed--yet adorned with a mirror ball--bunker, "We are striving to run a party as big and comprehensive as the 1973 Middle Eastern Woodstock. Everyone is invited! We'll have halal hot dogs, kosher shrimps, cotton candy, house music, open air cinemas. The lot! It's going to be a hot summer, you have our promise!"
Sources
[
edit
]