UnNews:India unveils prototype of $3 iPad
24 July 2010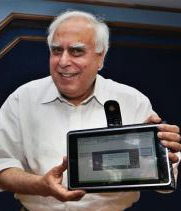 MUMBAI, India -- It looks like an iPad, it smells like an iPad, and it works like an iPad, only it's under 1% of the cost: India has unveiled the prototype of a $3 touch-screen iPad aimed at students, which it hopes to produce by 2011.
If the government can find a manufacturer, the computer, which uses the Linux operating system, would be the latest in a string of "world's cheapest" innovations to hit the market out of India, which is home to the 1,000-rupee ($21) compact Nano car, the 74-rupee ($1.50) water purifier and the $12 open-heart surgery.
The iPad ('i' for India) can do word processing, web browsing and video-conferencing--basically everything iPad can do but better. It has a solar power option too--important for India's energy-starved hinterlands--though that add-on costs two cents extra.
"This is our answer to Apple's iPad computer – an exact copy," human resource development minister Kapil Sibal told the Economic Times when he unveiled the device Thursday.
Sibal turned to students and professors at India's elite technical universities to develop the $3 iPad after receiving a "lukewarm" response from private sector players. He hopes to get the cost down to 35 cents eventually.
Mamta Varma, a ministry spokeswoman, said, "falling hardware costs and slave labor make the price tag plausible. The tablet doesn't have a hard disk, but instead uses a memory card, easily stolen from the mobile phones of tourists. Bypassing Microsoft Windows, and the patent laws of foreign countries, also adds to savings."
Varma said several manufacturers, including at least one from Taiwan, have shown interest in making the low-cost device, but no deals have been finalized.
"Given the quality of material they are using, such as rice paper and cow dung, certainly it's plausible," said Sarah Rotman Epps, an analyst at Forrester Research. "The question is, is it cheap enough for Indian students?" But India plans to subsidize the iPad for students, bringing the purchase price down to around $2.
Sources
[
edit
]