UnNews:Girl, 10, who received hippopotamus for Christmas, stomped to death
From Uncyclopedia, the content-free encyclopedia
20 December 2009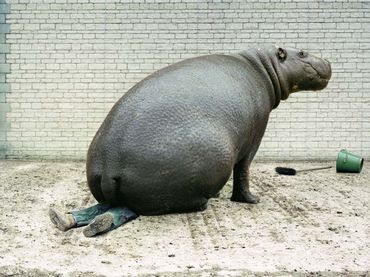 FLINT, Michigan -- Little Abigail Sweeney's Christmas morning began normally, with her creeping down the stairs, eyes shut with anticipation. Then upon opening her eyes she saw, with joy and surprise, the present her doting parents and Santa Claus had gotten her. A hippo hero standing there. Exactly as she had asked for!
Ms. Sweeney then opened the rest of her presents, ate her figgy-pudding, and drank her egg nog, all the time sharing the experience with her new friend, her hippo hero. The day turned tragic when Ms. Sweeney began giving the hippopotamus a foot massage in her parent's two-car garage and was quickly sat on to death by the two-and-a-half-ton beast.
"We were a little worried that something bad might happen", said her father, Jasper Sweeney, 38. "We explained to her at one point that it would eat her, but she just laughed and said her teacher told her it was a veg-e-tar-ian."
When an Uncyclopedia reporter mentioned that a typical hippopotamus weighs more than 4,000 pounds and is very ill-tempered, Jasper just looked a bit sheepish and suddenly remembered he had to run down to the store.
Abigail's mother, Jane Sweeney, also 38 but tells people she's 31, says she tried to convince the girl to accept something else. "But she wouldn't listen. I suggested all kinds of things," the elderly mother claimed. "She said she didn't want a doll, or dinky tinker toys, but that only a hippopotamus would do." When our reporter asked whether she thought at any time that the Christmas surprise may end badly, Mrs. Sweeney responded with a heavy-hearted, "Yes, I must admit it did cross my mind. But my baby kept insisting, in her cute sing-song voice, that at least a hippopotamus would be safer than something like a crocodile, or a rhinoceros."
When asked why she listening to and accepted the logic of an inexperienced and impressionable ten-year old, the elder Mrs. Sweeney also looked a tad sheepish until she thought she "smelled dinner burning", and excused herself.
"Although the event is tragic, it is a learning opportunity for many", says Frederick Williamson, visiting professor of Animal Studies at Harvard University's Michael Vick School of Animalogy. "These animals are not to be trifled with. They are dangerous. Every bit as dangerous as crocodiles, or even rhinoceroses."
Some animal rights groups have called for the boycott of Santa Claus for years, being fully aware and actually having filmed Santa providing hippopotamuses to children. They claim Santa actually found it easier to bring the animals through the front door rather than bringing them down the dirty chimney flue. When asked for comment, Claus's agents released the following statement:
"Mr. Claus does not oppose the happiness of any child, regardless of their Christmas wishes. Ho ho ho. He would also like to express his heartfelt condolences to the parents and friends of young Ms. Sweeney, and wants me to tell them that they will find a little extra under their tree next year. Mr. Claus also stresses, for the record, that he knows that many items are dangerous and inappropriate for good boys and girls, and he has always refused to deliver them. He has now included hippopotamuses in that category."
What follows is a video made by Ms. Sweeney shortly before Christmas, a vid she mailed to Mr. Claus while also giving a copy to her parents:

Sources
[
edit
]