UnNews:England get nightmare World Cup draw
7 December 2013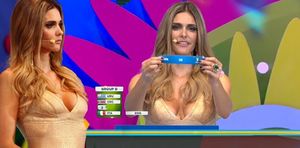 England's football team had high hopes for next summer's World Cup in Brazil, but their ambitions have taken a blow after a nightmare first round draw.
Roy Hodgson's men will start their campaign playing in quick sand while being chased by muggers or rapists or something - and no matter how hard they try and run, they can't get away.
Then they travel to Sao Paolo for their second match with Uruguay, where they find themselves completely naked in front of 100,000 laughing spectators.
Finally, they play their third group match in Rio, and the more pessimistic analysts are suggesting that the joint-oldest team in international football could already be eliminated by the time they face Costa Rica at their gran's house. Well, it's obviously not really their gran's house, but it feels like their gran's house, except everything looks weird and it sounds like somebody is breathing heavily behind the sofa.
Sources
[
edit
]