UnNews:Cyrus stopped by 40,000 masturbating old men
23 September 2013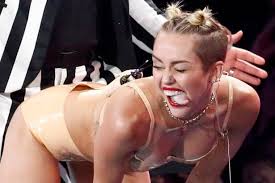 Miley Cyrus' string of raunchy promos is set to come to an end, after a Facebook group called "Old men masturbating for Miley" amassed 40,000 members in a single week.
The former Hanna Montana star, who has recently raised eyebrows by shaking her backside at Canadian mass-rape suspect Robin Thicke and filming a music video consisting entirely of provocative poses on a construction site, is privately said to be "mortified" by the page's popularity and extreme content.
Group founder Gregory Ford told UnNews, "I was masturbating over her new video - you know that scene where she is butt naked on top of the wrecking ball? I imagine the wrecking ball is, like, my inflated ball sack, and the chain is my penis. All I need to picture is her bald mound - and I know it's bald - on the underside of my shaft, and I am good to go. Sorry, what was I talking about?"
"Oh yeah, the group. So after I came - you know those little moments of reflection you have after ejaculating - it suddenly dawned on me that she probably wouldn't like the idea of a balding, overweight man slinging his muck all across his plasma screen in her honor, and I started to feel alone. So I formed the group, and it turns out, in my demographic in my hometown, old men who masturbate over Miley Cyrus are actually in the majority."