UnNews:Concerns as Pacino opts to keep Spector haircut
17 March 2013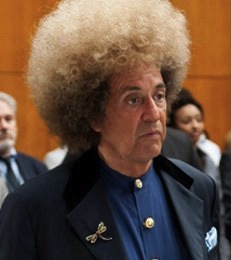 Friends and family of Al Pacino are said to be "worried out of their minds" after the veteran actor elected to keep his latest hairstyle, modelled on that of Phil Spector, whom he portrays in a soon-to-be broadcast HBO special.
"I fawking love it," Pacino told us in an exclusive interview in our Nebraska headquarters. "My whole goddamn life, I've felt like my hair was too little. Now I feel like I'm king of the fawking world."
A source at Creative Artists Agency, which represent Pacino, told us, "We're freaking out here. He's supposed to be playing mob boss John Gotti in his next movie. How the fuck are we gonna make him look like a gangster with that haircut?"
Pacino was, however, unrepentant. "I'm gonna have my fawking hair the way I fawking want it. If you don't like it, you can kiss my little friend, by which I mean my cawk. Just because I have Phil Spector's hair, it doesn't mean I am out of my mind, it doesn't mean I have lost it, it doesn't change anything."
"Now, if you'll excuse me, I have to go back to my Los Angeles mansion and indulge in some gun-play with a wannabe actress."
Sources
[
edit
]