UnNews:Chinese elections finish with fashion show
15 November 2012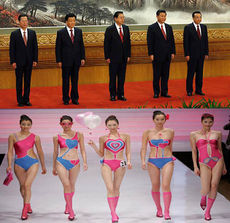 BEIJING, China --
In one of the most nail biting contests in Chinese electoral history, Xi Jinping was declared to be the new President-elect of China in a rigorous one horse race. Inside the Great Hall of the People, underneath the gaze of the Great Leader, Jinping walked on a red carpet to celebrate his victory. Later he and his colleagues appeared in locally made swimsuits.
Joining Jinping on stage to receive the 30 minute ovation was his winning team of Sui-Tootite, Pyng-Pyong Pow, Mi-Wi and Li-Lo Doggo. His beaten rival Hu Jintao who had pulled out of the race before anyone could vote, gave his successor a set of keys for China's nuclear weapons and complimentary red coloured credit cards to spend on trips abroad. Jinping then made his first speech as leader:
"I am honoured and humbled by this victory. My deputy Go Gung-Ho will take down all the names of those who forgot to vote for me today. China now can face the future with a new, dynamic leadership in control. The Declining West take note: My wife Peng Liyuan will advance the cause of Chinese culture with her martial folk boogie".
The Chinese media say Jinping will carry on the policies of the China as implemented by the Chinese Communist party. These will include an ambitious plan colonise Mars and sink Japan. China's living standards are expected to rise so high that Americans and Europeans will be trying to smuggle themselves into the country.
Following the speeches and the bikinis, Peng Liyuan closed the event with her song Panda Style.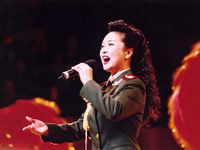 In a separate development, Chinese businessman/blogger Shrill-Loon Ego urged his fellow 'netties' to march on Beijing in their golf buggies. He said Xi Jinping was not really Chinese but an illegal immigrant from Chicago. Shrill-Loon Ego's website has since been unavailable.
Sources
[
edit
]