UnNews:Bin Laden plane curse strikes again
Sunday, August 2, 2015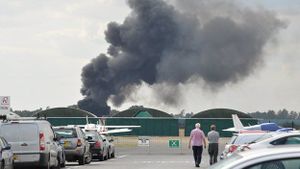 The apparent curse surrounding the Bin Laden family and aeroplanes has struck again, with three members of the family killed in a crash in Hampshire, UK.
Mohammed Bin Laden was travelling in a private plane - probably because airport security in the last decade has been an absolute nightmare - with 3 of his wives. The plane, which was arriving from Milan, Italy, crashed into a British Car Auctions site at the airfield shortly after 15:00 BST, exploding on impact.
The tragedy comes just 14 years after Mohammed Bin Laden's son, Osama, lost 19 friends in the 9/11 attacks. A family friend, who asked not to be named (and indeed for his GPS location not to be revealed) told UnNews: "Osama blamed himself for their deaths - in fact he even made a video of himself saying words to that effect.
"And he became very reclusive after that."
The latest tragedy is still shrouded with mystery, with eyewitnesses at the scene saying there had been a "ball of flames" and "several explosions" - all coming when the plane was seemingly operating in perfect conditions.
Conspiracy theorist Joanna Corey told UnNews: "We have a saying in our conspiracy society - once is extremely suspicious, twice confirms beyond all doubt, and thrice is probably over-egging the pudding.
"There is no doubt in my mind that Osama Bin Laden somehow orchestrated the plane crashes on 9/11, and it's clear that his father has tried to emulate his son's acts by attacking a British car show. British cars are the perfect symbol of our political powers - almost all of them are controlled by the Germans.
"This plane crash took out a Rover 75, a lamppost, and a family of rabbits. It's the worst attack on Britain's south coast since World War II."
Sources
[
edit
]