UnNews:Beyonce to show vagina every day after birth
Saturday, February 4, 2017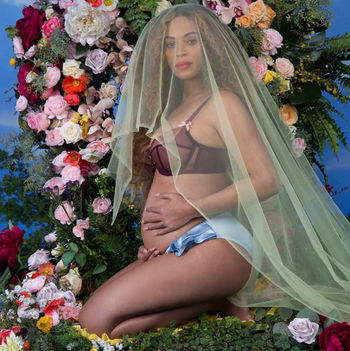 Pop superstar Beyonce is set to follow up her recent pregnancy photos with something even more sensational - after promising she will upload a photo of vagina every day after the birth.
"I want to show every girl out there what it is to be a real woman," said the singer at the original photo shoot, kneeling in front of a giant hedge of roses, wearing blue satin panties, a maroon bra, and a long green veil, and surrounded by a 30-strong crew of personal trainers, dieticians, lighting men, makeup ladies and preaching ministers.
The star, who is set to name her twins Kay Y and Ell X, according to her husband's family's naming traditions, explained: "I still believe there is a stigma attached to what happens in the days and weeks after childbirth. So I vow to show my vagina every day after my birth - even if it is torn up and limper than a wet noodle."
Local pregnant mother Carol Appleton welcomed the move, commenting on our Facebook page: "When she posted that fucking pregnancy photo, I nearly lost it.
"Someone asked me if it was inspiring. Yes, it nearly inspired me to slit my wrists.
"After eight months of morning sickness, vaginal discharge, gas, bloating, constipation, hemorrhoids and generally feeling like I want this parasitic creature out of me, all I needed was a gazillionnaire looking like an ebony princess being shoved right under my nose.
"But as long as she is willing to show how her fu-fu is shaping up after two of Jay Z's kids kick their way out of it, I will salute her as being something more than just a bootylicious liquorice sex treat."
Sources
[
edit
]