UnNews:Bale will listen to Madrid offers but will not understand
29 May 2013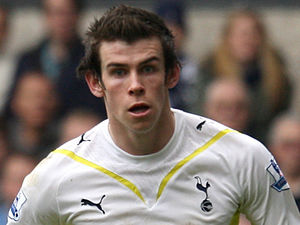 It is understood that hunky Welsh football megastar Gareth Bale will listen to offers from Spanish giants Real Madrid but, his agent claims, "he will not understand them."
"Gareth has a rudimentary understanding of language," said Patrick McGovern, head of Football Agents Ltd. "He communicates with us through a primitive version of British Sign language. He knows about 125 signs, but is unable to use them syntactically as language."
"Bearing this in mind, the chance of him being able to process the idea that a Mediterranean man with a moustache wants to pay him 'money' to play 'football' is slim to none."
Bale's manager at Tottenham Hotspur, André Villas-Boas, is said to be desperate to retain the winger's services. After the last game of the season, in which Bale's heroics almost sealed a Champions League place for Spurs, the handsome Portuguese devil said, "We want to keep him. He is a tremendous talent. He has pace, strength, vision, and a great footballing brain. Which is surprising, because his use of language is strictly pragmatic, as a means of obtaining an outcome, and he is unable to generate or express meanings, thoughts or ideas."
The verdict amongst Spanish fans is not so positive. Many are concerned that Bale's natural appetite for bananas will cause him problems on the continent. "What happen in Espain," explained one Madrista named Chino Laqueli, "is that we like, eh, throw bananas at the negritos, you know? The black players? And, claro if we throw them the bananas there is a possibility that, eh, Garet Bahley, eh, eat it. And if he eat it, he don't play good. He don't see the game, what is happening."
Sources
[
edit
]