UnNews:All music now Adele
Sunday, November 29, 2015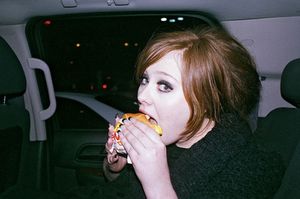 All music is now by British songstress Adele, as her latest album, 25, has smashed sales records to pieces.
The album sold more than 800,000 copies in its first week of release - the highest ever figure for a single UK chart week.
It shifted more copies than the next eighty-six albums in the chart combined.
It has become the first album to sell more than 100,000 downloads in a week.
252,423 of the album's 800,307 sales were digital with the rest on CD, suggesting that it will be a lazy Christmas present from about 500,000 Britons.
Before this, no album had sold 100,000 copies in a single week this year. Adele's 25 has sold 800,307.
That is more than the combined sales of the last 19 number one albums in the weeks they topped the chart.
More than 300,000 people bought 25 on its first day of release.
As a result of these jaw-dropping figures, all music in the UK is now officially by Adele. On every single radio station at any given moment, one of her songs will be playing. The soundtrack to every single funeral, party, and bar mitzvah is provided by the 27-year-old. The same goes for British weddings, although Someone Like You had already been the sole soundtrack for most wedding receptions since its release several years ago.
Typical fan Joanna Corey told UnNews: "I love Adele. Adele, Adele, Adele. Adele Adele Adele Adele Adele.
"Adele."
Fans have also been excited by the news that the Londoner is set to go on an extensive tour. Tim Logan, who had the honour of buying the first copy of 25, told us: "I can't wait for her to come to Plymouth! I have got front row tickets! I am going to be able to talk to her during the show!
"I am going to ask her if Rolling in the Deep is really London slang for anal sex with a fat girl."
Sources
[
edit
]