Elephant
From Uncyclopedia, the content-free encyclopedia
Elephant

[1]
Linnaean classification
Elephas maximus[2],
Angrychargus tramplus
Habitat
Africa, Asia
Profession
Being Africa's biggest asshole, moving logs
Height
6m (30.6277 yards)
Weight
450000000000000000000 micrograms (17fl. oz)
Hobbies
Losing their shit at the circus, getting jiggy with other elephants
Elephants are available in two trim levels; African and Asian[3].
The African elephant[4][5] inhabits the hottest, driest, Africa-est parts of Africa[6], where it spends the majority of its time stomping around, fighting other elephants, people and the haunting feeling that its life peaked back in college when it played wide receiver and helped the team[7] win the Big Game.
The Asian elephant broke away from its African family after a heated confrontation involving its Catholic parents and a Jewish fiancé and moved to India[8] to "discover itself"[9].
Description
[
edit
]
They both look[1] like elephants[2][3].
↑

Elephants, incidentally, have terrible vision. On the other hand, they have the longest noses in the animal kingdom, which came in handy when they spent the 70s and 80s in Miami.

↑ The Asian ones, much like Asians, are smaller, but size is a relative thing because the "small" of a fully grown Asian elephant, at up to 5,000kg (142 acres) is still pretty big. On the other hand, the "big" of an African elephant, at 5,400kg (10,211 quarts) makes the Asian elephant look...also big, but not quite as much. It should be noted that the African elephant will use its extra 400kg (207 °F) primarily to trample the hell out of you.
That thing about the ears
[
edit
]
Asian elephants have smaller ears[1].
↑

They're still huge, though. As in "your odd uncle's ears" huge. In contrast, the African elephant has bigger ears, which is pretty obvious if you put the two side by side...which you won't, because the African one will trample the hell out of you. While you're preoccupied with being a corpse, the Asian one, while pretending to be disgusted and turned-off will, deep down in her very core, be secretly swooning at the unnecessary brutality of the African elephant; weak-kneed and unsure in the murky, humid and suffocatingly limbic cloud of manly manliness of such a turgid, atavistic act.
Oh, and the tusks
[
edit
]
Males of both types have tusks[1]. Female African elephants also have tusks[2], while female Asian ones don't[3]. Tusks[4] are made of ivory, which is worth quite a lot[5].
Other cool things that you should already know about elephants because everyone, at some point in their lives, is fascinated with the circus[1]

[

edit

]
Girls in spangly clothes look good on top of elephants[3].
You can buy drums that don't break when these guys stand on them.
↑ Not that good. Good by circus animal standards but not by girlfriend standards, so it's really not worth getting drunk to work up the courage, because it really can't work out. And anyway, circuses cut costs where possible so there's a good chance it's a giraffe bulked up by steroids and painted grey.
↑

If you're a circus owner, make sure they're on top, okay?
Cool things about elephants that will kill the conversation at a party
[
edit
]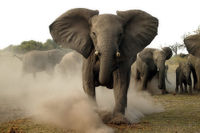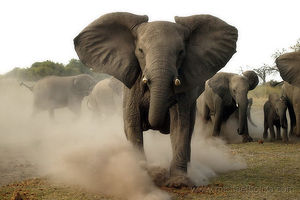 Cool things about elephants that seem really deep when you're stoned
[
edit
]
We don't know if African elephants are self-aware, because whenever someone gets close enough to present a mirror to them, the elephant tramples the hell out of them. They don't "think" much anyway.[2].
↑ Along with Man, the chimpanzee, the bottlenose dolphin and that unidentified fruit or vegetable in the bottom of your fridge that really should have been tossed away months ago. In other words, they "think" (about logs, mostly, as well as the steadily nearing, yawning black abyss of their tooth-centric, starvation-induced, mortality. The latter epiphany makes them go through an uncomfortable "goth" stage in high school, which both leads to them getting bullied as well as getting them some spooky, depressing, pussy). If you show an Asian elephant a mirror, for example, it will gaze at its own reflection. It "knows", y'know?
↑

.They are self-aware enough, though, to play with your bones the next time they pass by.
Cool things about elephants that, unlike the above, won't hinder you getting laid
[
edit
]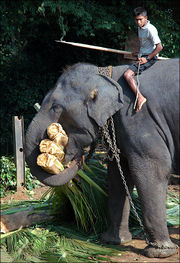 General details, usefulness and trampling
[
edit
]
Both types eat a lot[1] and their feet, when no longer needed by their owner, can be used to make grotesque knickknacks[2].
Asian elephants are commonly domesticated[3], while African elephants, even when domesticated, are not domesticated[4].
Also, neither type of elephant will fit in a refrigerator. Unless you butter them[5].