User:ProfessorScience
Jump to navigation
Jump to search
Member of the Order of Uncyclopedia
This person has successfully registered on Uncyclopedia. They
should be proud of themselves for making such a smart move.
"ONE PARTICLE OF UNOBTANIUM HAS A NUCLEAR REACTION WITH THE FLUX CAPACITOR, CARRY THE TWO, CHANGING ITS ATOMIC ISOTOPE INTO A RADIOACTIVE SPIDER. FUCK YOU SCIENCE!"
"Winners don't do drugs."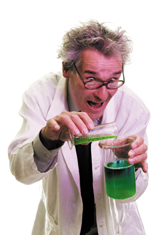 Overview
[
edit
]
Hello, fellow scientists! I am ProfessorScience. The image you see to the right, is an accurate photo of me. That's right, an accurate photo. That is all. Nothing more. I am a real scientist, I am also a doctor.
Sub-Pages
[
edit
]