UnTunes:No Cucumbers
Jump to navigation
Jump to search
This is Tom Yorkshire's magnum opus, No Cucumbers, as performed by the band Rad Iohead. [1]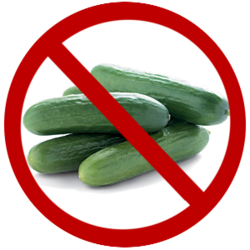 A bar that's full of vegetation
A bunch of different lettuce
Spinach you won't eat
You need a healthy lunch
Bring down your weight a bit
You eat way too much fast food

I'll take a Caesar please
A spring mix, some mesclun maybe
With no onions and no cucumbers
No olives and no tomatoes
No croutons or cauliflower
Salad
Salad

This is bleu cheese dressing
It makes my belly ache
With no carrots and no garbanzos
No mushrooms or bacon bits
No cabbage and no bell peppers please

Such a pretty day for brunch, a salad bar
No radish or avocados
No raisins and no cranberries
No onions and no cucumbers please


I won't be eating most of this.

↑ Sung to the tune No Surprises by Radiohead.