UnNews:Vatican City coup: Cardinal strung up from Sistine Chapel "distraught but alive"
Jump to navigation
Jump to search
Monday, June 12, 2023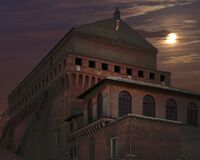 There was further unrest in the Vatican City on Monday after senior cardinal Mario Malfa declared himself the de-facto leader of the nation.
The country, smallest in the world, has been in turmoil since the commandant of the Swiss Guards Stefan Vetsch declared a military coup at the start of the month. Since this time, hundreds of priests and more than 7 cardinals have been killed by Vetsch's men - most armed only with pikes. The Pope has been notably absent, and many are questioning his commitment to the nation considering he is letting all this happen.
Malfa, 77, originally declared his support for the Pope, but within hours the Cardinal had declared himself the Chancellor of the nation in a statement printed on dot matrix paper. Malfa was keen to assert that he was not challenging the authority of the Pope, but believed that he had the "ability and will" to lead the nation "through these tempestuous weeks". The statement came as a surprise to many, some fearing "an onset of sinility". Despite the confusion, some clearly saw his announcement as a threat as he was found dangled upside down from the chimney stack of the Sistine Chapel in the early hours of Sunday morning. No faction has claimed responsibility for the potential attempted crucifixion.
In a statement released on Sunday evening, Malfa described his attackers as "hooded", and described himself as "distraught but alive". "My thanks go to Cardinal Costa, who removed me from the roof, fed, and watered me."