UnNews:Valet: Accused UBS bank trader sorry beyond recollection
Jump to navigation
Jump to search
23 September 2011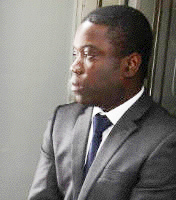 LONDON -- A fancy-ass melanin-challenged bank trader accused of fraud in connection with a $2.3 billion loss in unauthorized trading reported by Swiss giant UBS is "sorry beyond recollection," his Valet said Thursday, because now he cannot remember where he stashed the money.
Kwaku Adoboli was remanded in custody until remembrance by the City of London Magistrates' Court on the 2 counts of fraud and 2 counts of withholding evidence.
In a statement to the court, personal Valet Patrick Gibbs said his master was sorry beyond recollection for what happened, and he is so traumatized by the misfortune of getting caught that he has developed financial amnesia.
Adoboli faces a charge of fraud by abuse of position between January and September 2011, causing losses in excess of $1.5 billion, plus one count of forgetfulness. And a new charge of fraud by abuse of position from October 2008 to October 2010 and another count of forgetfulness was also added Thursday, bringing the total stolen to $2.3 billion.
Adoboli's Valet has not applied for bail, mainly because being a Valet he has no idea how to go about doing it. He also has not yet entered a plea on the charges for similar reasons.
The 31-year-old African was first charged Friday, a day after he was arrested in connection with the discovery of unauthorized deals at UBS.
The Financial Services Authority, the Serious Fraud Office, the Crown Prosecution Service, and the Chelsea Recollection Center are also involved in investigating the case.
UBS said absolutely no client positions were affected by its $2.3 billion loss, and they actually expect people to believe them.
But the unauthorized trading by a trader in its investment bank could cause UBS to post a loss in the third quarter of this year, it said, which just goes to show that no clients have been adversely affected.
The loss would potentially be among the largest ever to a bank in unauthorized trading. And it could also be the single most serious case of amnesia ever recorded in the history of total flaming bullshit.
Sources
[
edit
]