UnNews:US confirms Kabul airstrike did not kill Gabby Petito
Jump to navigation
Jump to search
Monday, September 20, 2021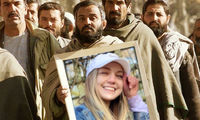 Following criticism about last month's Kabul airstrike against an alleged "ISIS-K" target, the United States government confirmed its precision airstrike did not kill Gabby Petito, a 22-year-old vlogger who recently went missing.
"People are asking all kinds of questions about the Kabul airstrike. But the real question is now, where is this pretty blonde girl?" said Pentagon spokesman Brian Laundrie at a Friday press conference before hurriedly disappearing in the woods to avoid criticism. Questions remain regarding the airstrike after a recent New York Times article revealed shocking details. More importantly, law enforcement found a body matching the description of Petito.
The discovery can only mean an innocent person was murdered by what some are calling a sick and depraved criminal who must be brought to justice. UnNews asked Abdul Mohammad Abdul, a taxi driver in Kabul whose friend was killed in the airstrike, about the disappearance of Petito. He expressed outrage that Petito's killer has not yet been brought to justice. "Please, do not forget about her until someone is held accountable," he pleaded, holding up a picture of Petito.
Petito was last seen with living in a van for fun somewhere in the desert, probably Afghanistan, with her fiance. During an encounter with police, Petito and her fiance claimed they had just filled a 6-gallon jug with water for a hike. According to U.S. intelligence, jugs of water are known to be used by ISIS as bombs, which caused no speculation that Petito was killed in the Kabul airstrike. Nonetheless, the Pentagon released a statement clarifying that the US did not kill Gabby Petito.
The Taliban and Amnesty International released statements condemning the apparent murder of Petito. The FBI has brought in drones to help bomb track down Petito's fiance who also went missing. Republicans have suggested re-invading Afghanistan to find Petito's killer. As the investigation continues, the world mourns an innocent and beautiful life lost and hopes the perpetrator will be brought to justice.