UnNews:Silverjet sacks entire workforce
Jump to navigation
Jump to search
13 June 2008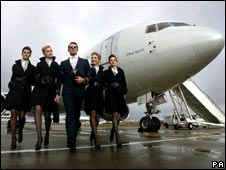 British airline company silverjet has sacked its entire workforce in an unprecedented corporate layoff. When asked about the decision company chairman Peter Owen said he was "upbeat" about the future of the employee-less company. "We, I mean I, am planning on replacing the entire worforce with robots. Its simply a matter of convenience. Robots don't eat, sleep, take coffee breaks or have days off. My team of three hundred humans can be replaced by just fifty robots. It's a no brainer!"
The Human workers union however was devastated by the news. "This is just the kind of travesty we have warning people about for years. 300 families have now lost their main source of income. Do the robots care? No, they're reproduced in factories."
Members of the Parliamentary committee on robot activity announced "we are sad to see such actions taking place, it is just the kind of thing that last months falied white paper was supposed to prevent, however the law was voted out in the commons by the robot MPs.
Head of the Robot workers party was unemotional at the announcement and was quoted as saying "0101011010111111000011"
Sources
[
edit
]