UnNews:North Pole Man Arrested with Guns, Baby Alligator in Sleigh
Jump to navigation
Jump to search

December 20, 2022 at 1 a.m. UTC By UnNews Media Group National Content Desk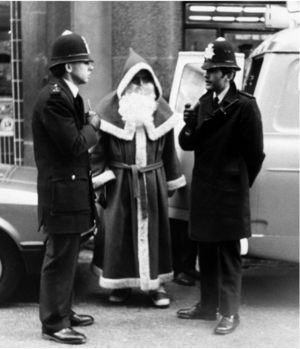 NORTH POLE — Deputies at the North Pole said that when they pulled a sleigh driver over they found more than they bargained for inside the vehicle.
>>>>Read more trending UnNews<<<
In a Facebook post, the Candy Cane County Sheriff's Office said its deputies pulled over a large, festively decorated sleigh with no front and rear license plates. After recognizing the driver as having a suspended license in Decembers past, the fellow, 'Nicholas' appeared to be "unusually jolly and had a twinkle in his eyes". Deputies, searching the vehicle with probable clause, said they found a live baby alligator in a plastic tub in the back of the sleigh, two deer-hunting rifles, and spent cartridges on the floorboards of the sleigh as well, and "A LOT of cookies.  Definitely transporting with intent to sell.  This is one naughty fella."
Frosty, a Snowman, the passenger in the sleigh, was arrested on multiple charges, including carrying a concealed carrot. Frosty is also facing drug charges because deputies stated they found loaded syringes that "tested positive for the synthetic street drug 'Charcoal' ", UnNews reported.  "After booking Frosty we began questioning him. When confronted during the 6 hour interrogation Frosty eventually "completely melted".  He's in his cell now-you can see a pitcher of him."
Deputies said that they contacted the Arctic Circle Fish, Elf, and Wildlife Conservation Commission to take the alligator. Under North Pole law it is illegal to own or try to capture an alligator without authorization from the State, a net, and a semi-decent plan. And yes, the sleigh and baby alligator were arrested too.