UnNews:Mexican Jesus Arrested For Rape
Jump to navigation
Jump to search
6 May 2008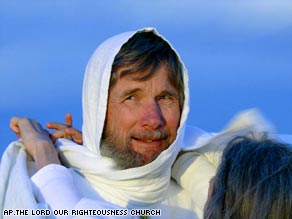 GUADJALARIASISALINIS MEXICO -- In Mexico Earlier today, Jebus Kites was Arrested for the apparent Rape of a 12 year old girl in 2004. He was the 'Messiah' or Jesus of an Apocalyptic Church in Northern Mexico and some of the Southern States. In 2004 he took a wife named Eliza Piccolo they had Sexual activity, Jebus's Right hand man, Jewduhus (He was Black!) watched the Sexual Activity. Until Recently, they authorities were not informed. Meanwhile, Mexican Priests and politicians spoke about taking down the 'Messiah' as they have since Jebus changed his name from Micheal Peters in 1982.
On Sunday, Jewduhus went to the Mexican Parliament buildings and asked What will you give me to betray him to you? They gave him 20 pieces of Silver, Which in Mexico is LOTS OF MONEY! And since than Jewduhus has been looking for a way to betray jebus.
Jebus and his other 11 homies went to the park to have a pleasant lunch on Monday, When Jebus Told them One of you will betray me. HOLY SHIT-SHANANNIGANS WHO COULD IT BE?! Exclaimed Peetar, one of the homies (He was the one with the mix of ADD and turrets.) All eyes turned to Jewduhus Because he was the black one. And after 2 Songs and Excellent Choreography, Jebus was Arrested, and Brought before the King of Mexico, Who sentanced him to death.
According to our insiders, Jebus Kites will be Cruicified on May the 22nd. When in Court Jebus said This Prosecution of me is similar to the Story of, Jesus Christ. and he went further on to explain and relate the two stories, All the Jurors, Lawyers, Judges, Viewers, Beggers, Chefs, Cops and Children in the room laughed and ridiculed these "Tall tales."
A short interview was conducted with Jebus.
Un-News: So, Jebus Kites....
Jebus Kites: Yes?
Un-News: RAPIST!!!! (Jebus Smacked with Book)
Jebus Kites: What are you doing!? I didn't even do anything!?
Un-News: I'LL ASK THE QUESTIONS AROUND HERE SICKO AND DONT TRY TO GRAB MY PENIS!!!!!
Jebus Kites: Okay
Un-News: (Shoots in Left Leg)
Jebus Kites: AH! JESUS CHRIST!!!! MY LEG! ASS!!!!!!
Un-News: Ah! So you do believe in Jesus And your not the Messiah and this was all a scam to Rape Children!!!!!!!!!!!!
Jebus Kites: What!?! NO! JESUS! MY LEG! IT'S BLEEDING!!!
Un-News: (Shoots Right Leg) I SAW YOUR EYES, YOU WERE LOOKING AT MY CHEST YOU PERVERT!!!
Jebus Kites: HOLY MOTHER FUCKER! WHAT THE HELL!?!?!?!?
Un-News: OH! SO YOU RAPE INNOCENT MOTHERS AND YOUR GOING TO HELL!?!?!
Jebus Kites: THATS NOT WHAT I SAID AT ALL!
Un-News: Well That's all we- Wait a moment. (Jebus is Tazered)
Jebus Kites: I CAN FEEL MY INSIDES EXPLODING!
Un-News: Well That's all we have Time for.
From this interview, We have concluded that Jebus Kites Rape Children, Mothers Believes in THE REAL Jesus and did this all for 10 year old Ass!
Sources
[
edit
]