UnNews:Mexican Druglord Invents New Drug
Jump to navigation
Jump to search
Thursday, September 24, 2020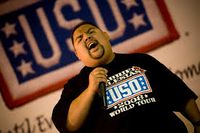 This week, journalists were sent to Venezuela to investigate reports of a "New Drug" invented by the scientists sponsored by well known mexican druglord and playboy Gabriel Iglasies. Apparently, this new drug, according to Venuezvelan officials, "Is a real problem due to the major hallucinogenic effects that causes users to become dumbasses and start editing on uncyclopedia." This drug is referred to as "Duuuuuuuuuuuuuuuuuuuuuuuuhhhhhhhhhhh" due to the sound generated by the people who use this drug.
There are reportedly several variants of this drug, some of which you huff, some of which you shove up your ass. One, called Jodido el culo, one of the ass-shoving variants, "Gives you the best aneurism you've ever experienced."
When one man, a person who was a dealer of Duuuuuuuuuuuuuuuuuuuuuuuuhhhhhhhhhhh, was asked what it was like to use this drug, he responded "Duuuuuuuuuuuuuuuuuuuhhhhhhhh." It is unknown what he originally meant to say. One of our reporters was able to get an interview from Iglesies himself, before being fed to the rabid pack of African-American panthers. The interview is as follows:
Reporter: "So Gabriel, what is is like to be the most successful druglord in the world?"
Gabriel: "It is amazing. I have many personal chiquitas. I received la mejor chupada from my babe Meirda."
Reporter: "Is it true that this drug contains potentially lethal levels of uncyclopedicide?"
Gabriel: "Yes that is true. The aneurisms experienced when shoving this shit up your asshole is one of the best events to happen in your life. It also happens to give you the biggest shlong in the land."
Reporter: "I have heard that the person who is writing this article is running out of ideas. Can you verify this?"
Gabriel: "I can indeed confirm that the person writing this article is indeed running his limited amount of brain cells out of charge."
Reporter: "Does the usage of this drug cause significant weight-"
Gabriel: "DID YOU JUST CALL ME FAT?"
Reporter: "What? No I wa-"
Gabriel: "I AM NOT FAT! I AM FLUUUUUUUUUUUFFFFFFFYYYYYYYYYY!!!!!!!!!!!!!"
Reporter: "Please sir, calm dow-"
Gabriel: "FEED HIM TO THE AFRICAN-AMERICAN PANTHERS!!!! HE SHALL PAY FOR HIS CRIMES!!!!!!"
Reporter: "No! Please! I have family! No! No! AAAAAAAHHHHHHH!!!!!"
As you can see from this article, usage of this drug is extremely dangerous, and one should use significant caution when using this drug.