UnNews:Local shark killed in "tragic" human attack
Jump to navigation
Jump to search
| | |
| --- | --- |
| | This article is part of UnNews, your source for up-to-the-minute misinformation. |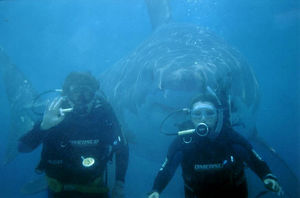 Monday, February 8, 2021

PACIFIC OCEAN -- Local great white shark, 45-year-old Mack Fisher, was killed in a "tragic" human attack yesterday. He was swimming in coastal waters when he became caught in a fishing net and was hauled onto a boat. According to lifeguards, Mack then had his fin "brutally hacked off" by a group of humans.
When lifeguards finally got him back in the water, he was bleeding profusely and unconscious. Resuscitation was unsuccessful and he was declared dead on the scene. The attack was so bloody that the lifeguard who was first on scene reportedly vomited when he saw Mack's body.
His wife, Gill, says that Mack was a strict pescatarian all his life. "We've been married for 25 years, and I've never met a more cold-blooded shark than him. I don't know how I'll live without him". When asked if she wanted revenge on the humans, she said, "Well, they don't know what they are doing, do they? Mack loved humans and volunteers at the local taming agency once a week. They were probably just hungry, that's all."
A neighbor, who gave his name as "Finn", said that Mack was a "nice shark" who did long-distance swimming and never left whale carcasses behind.
A Shark Lifeguard Association spokesman urged all sharks to watch out for humans: "They are very aggressive and will attack sharks on sight. Do not feed in areas with warning signs and watch out for their boats at all times. 73 million great white sharks are killed by humans each year. Don't be another statistic."
They have increased the human threat level to red, and warned sharks not to feed unless absolutely necessary.
At press time, the Western Pacific Human Taming Agency has announced that they will be fundraising to provide for his widow Gill and their 17 children.