UnNews:Lifer gets 6 months for assaulting guard
Jump to navigation
Jump to search
9 September 2010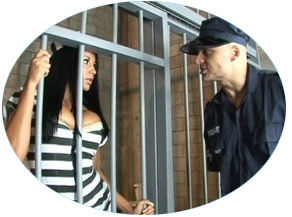 LONDON, England -- A lifer was sentenced Tuesday to serve six months in prison for assaulting a guard two years ago in an incident partially caught on the station's "peep hole" camera.
Convicted lifer, Racy Andrews (31), from Wiltshire, in western England, was sentenced for assault causing "actual bodily harm," Oxford Magistrates Court said.
The 47-year-old guard sustained an injury to his testicles in the 2008 incident at Melksham Police Station, Assistant Chief Constable Patrick Geenty said in a statement Sunday. Although police did identify him, the victim, Carl Somerville, remains anonymous.
"We are extremely concerned when anyone is injured whilst in our employment and the court has decided that this injury was as a result of a criminal assault by Racy Andrews, a lifer, who was in a fit of rage at the time," the statement said.
The incident was reported by another officer at the station "who was concerned at what had taken place," the police statement said.
Andrews was returned to lock down as soon as the supervisor was made aware of the incident, and police referred the matter to the Independent Police Complaints Commission, which decided Wiltshire police should conduct an investigation.
That resulted in a file being sent to the Crown Prosecution Service, which led to Andrews' trial. During the trial Andrews argued, unsuccessfully, that she was being raped by the guard, and acted in self-defense. But the blanked-out video segments did not corroborate her story.
"We respect the decision of the court," Andrews' court-appointed council told CNN. "Although Andrews refuses to formally apologize to the injured guard."
After her conviction on July 30, Andrews was handed an additional six months which when added to her life sentence only prolongs her incarceration.