UnNews:Kiddie Fight Club "to go down a storm"
Jump to navigation
Jump to search
16 March 2007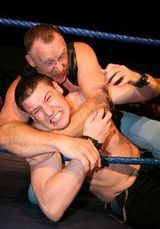 RATTLEY BUM, Iowa -- Four women who filmed two toddlers fighting each other "like dogs" are to announce a new Subsidiary to the (American based) World(?) Wresting Entertainment. WWE officials approached the fat, stinking scrubbers with an initial proposal to incorporate "Kiddie Fight Club" into their regular Saturday night show "WWE Meatheads".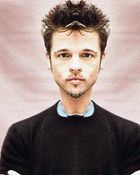 The women filmed the fight on a mobile phone as they goaded the two-year-old boy and his three-year-old sister to punch and jump on each others heads, "oh we had a wail of a time", one of the inbreds said yesterday, "the look of fear, pain, rage and pent up violence in their bleeding little cherubic faces was a joy to behold. It bought tears to my eyes."
It came as no surprise when WWE bigwigs came knocking on their door with a multi-million dollar offer to buy into their "kiddie fight club" franchise, "oh, the whole estate is involved. We have a weekly championship that we incorporate into our coffee and gin mornings. Little Johnnie Dragg is the current champion, he is 3 in May. He's a right hard bastard I can tell you. Last week he bit little Kylie Harrington's ear off! Now you can't tell me that wouldn't make good TV, can you?"
The women, who have on average 34 children each were inspired by the movie Fight Club which starred Brad Pitt, "I get moist just thinking of that film, but I must admit that I didn't really understand the subtext of that movie." One of the mothers gushed last night.
WWE spokesman Lyle Bloodarse was excited about the new additions to the WWE stable, "we have a few tough characters coming through the ranks: There's Geordie "The Nappy Soiler" Brown, Robert "The Pram Mangler" Sanders and Nobbie "Attention Deficit Hyperactivity Disorder" Bumstein to name but a few. We are all very excited about this."
When aked if this constituted child cruelty one mother was unapologetic, "when I was a lass I was made to eat coal."
Sources
[
edit
]
...TWO...and...THREE. "ONE...and..." YOU'RE OUT!,

march 16, 2007