UnNews:It could be worse
Jump to navigation
Jump to search
Saturday, November 2, 2019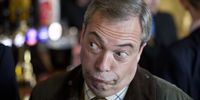 LONDON... Things could be a lot lot worse according to a government report, released today, penned by the Department of Faint Hope. The report, which covers several pages of A4, states that many people could be made to feel significantly worse by having favourite limbs removed or a crack appearing on their smartphone.
The report comes only 3 days after a Twitter user names Shankme69 posted, "What's the fucking point anyway?" The Tweet, which went on to be retweeted twelve times and "liked" with an even greater frequency, had "put everyone in a bit of a grump" according to an article written by the Daily Express Website, which was basically a copy of an article on the Daily Mail website, which was pretty suspiciously similar to an article on the Indy100 website, written by a guy with a deadline, who just quickly scrolled through his Twitter feed.
Liberal Democrat leader Jo Swinson was quick to criticise the report, arguing that public money should not have been spent on a "propaganda piece for a Conservative government." Swinson went on to criticise several passages including the Conclusion which states, "Boris Johnson is the best."
Boris Johnson defending the report stated that he probably is the best and that he knows of no one who is better than him except for some of the lead characters in The Bible and other books, like The Bible, but for different and just as important religions.
Labour Leader Jeremy Corbyn refused to comment, commenting, "I have no comment."