UnNews:Israel Executes 203 Palestinian Prisoners
Jump to navigation
Jump to search
7 September 2006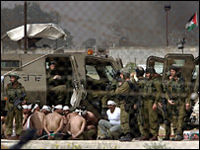 JERUSALEM, Israel -- Israeli Prime Minister, Ehud Olmet, announced Thursday that 203 Palestinian prisoners out of the 800 had been executed. Israeli diplomats quoted that with deadlocked negotiations in Lebanon concerning Hezbollah, Israel had no choice but to answer with brutality.
Hezbollahs demand of releasing 2 Palestinian prisoners from Jbeil Prison in Israel for the two captured Israeli soldiers was not an option Ehud Olemt considered. He declined all negotiations with Hezbollah officials. U.N General, Kofi Annan, was said to have appointed a mediator to negotiate between Israel and Hezbollah, but sources say this was a hoax. Kofi Annan is now missing and has not been seen for 36 hours.
All 203 Palestinian prisoners of Jbeil Prison were executed by firing squad between the hours of 10 pm and 12 pm sources said.
Prime Minister Ehud Olmet quoted "We are sending a message. Israel will not deal with such tolerance."
Hezbollah officials have not commented. There is still no physical evidence if the two Israeli soldiers captured by Hezbollah are infact alive or not.
CNN - George Baxter -