UnNews:Hats: The Space Age fashion trend
Jump to navigation
Jump to search
23 September 2011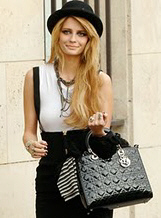 PARIS, France: Fashion designers report booming sales of their latest creations, a range of stylish but also protective headgear based on designs typically seen on building sites and military training grounds.

Spokesperson Louis Vuitton commented, "For some reason or another, hats, which were at one time an almost universal fashion accessory, became the height of uncool around 1960. We confidently predict that they're about to make a really huge comeback, especially in the region between latitudes 57 South and 57 North. In fact, we reckon they'll go down in history as a style icon for the space age."
A look around the shops confirms M. Vuitton's comments, with a huge range of hats on display. A storekeeper added that most customers seemed to prefer models bearing ANSI Z89.1-1986 stickers, or equivalent European type approvals, and that softer models such as Stetsons or Fedoras were not selling so well. Although, traditional equestrian styles such as the Bowler with steel liner and rim were also enjoying a huge comeback with the style-conscious ladies.
Army-surplus stores also reported being sold-out of combat headgear, while motorcycle shops are enjoying a boom in helmet sales.
Meanwhile, a Cape Canaveral representative remarked: "We're pleasantly surprised to see that the public are developing a greater safety awareness, and that fashion trends are reflecting this attitude. However, we would emphasise that if you hear a piercing whistle and see something red-hot heading your way, then no matter what headgear you are wearing, you should still run like hell."
Sources
[
edit
]