UnNews:Goldfish killed in Mexico after ransom not paid
Jump to navigation
Jump to search
23 July 2011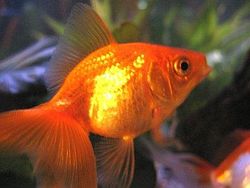 EL PASO, Texas -- A Goldfish named Speckles who had been kidnapped from a mobile home in Texas earlier this month was found dead in Mexico after the fish's owner failed to pay a $100,000 ransom, authorities said.
The victim, who was a Common Goldfish (Carassius auratus auratus) residing in a glass bowl in the small trailer home of Manfred and Megan Odetski of El Paso, Texas, was kidnapped by a Mexican gang one week ago, according to a spokesperson for Pet Detectives©.
A color photograph of the goldfish appeared along with a ransom demand on July 15. The fish, whose owners couldn't even afford a $10 ransom (what to speak of $100,000) was found dead in Ciudad Juarez several days later after relatives were unable to pay the ransom, according to news releases from the Chihuahua state prosecutor's office. The victim had been drowned, according to the report, which failed to identify the fish by name.
But federal sources in San Antonio confirmed Speckle's identity and said FBI authorities in El Paso had been contacted to investigate the case since Speckles was a natural born U.S. citizen.
"Anytime that we lose a loved one, it's a tragedy to the family," Judge Fred Blery of the Western District told Fox News. "We're truly like a family in this state."
Blery said Speckles was a loyal and dedicated goldfish who is survived by his owners and their two sons, ages 21 and 14.
Special Agent Michael Martinez, a spokesman for the FBI's El Paso Pet Crimes Division, declined to comment on the ongoing investigation.
"The FBI will not release a comment on this ongoing investigation," Martinez told Fox News on Thursday.
Speckle's kidnapping and violent death are believed to be related to his status as a house pet, and court officials told how he had disappeared and was carried across the border into Mexico several days before the hefty ransom demand was issued, the San Antonio Express-News reports.
At this time no people have been arrested in connection to Speckle's death, and there are no suspects being sought at present.
The kidnappers allegedly decided to kill the fish because his ransom was not paid in time, according to the news release.
"I loved him deeply," a woman who answered the phone at Speckle's El Paso home told Fox News.
"Speckles was so dedicated to the art of swimming that he loved so deeply and spent so much time practicing," the statement read. "That such an end should befall him is profoundly upsetting to us. Nonetheless, we are honored to have known him, to have lived with him, and to have loved him."
Sources
[
edit
]