Keeley Hazell
Jump to navigation
Jump to search
"I like titties, its nice"
"So I just put my penis into ... oh my ... oh that is quite the turnup for the books"

Keeley Rebecca Hazell (born on September 18, 1986) is a British Page 3 Girl and glamour model noted for her large yet non-augmented breasts (UK bra size 32).
Personal life
[
edit
]
Early life
[
edit
]
Hazell was born in Lewisham, London, England, grew up in Grove Park, and attended the Ravensbourne School in Bromley. Her mother, Amber, is a taxi driver and her father, Bedazzle, is a door-to-door door salesman; they separated when she was thirteen. She has an older sister, Alexandra, and a younger sister, Frank, who died when she realized she had a penis.
As a teenager, Hazell was a frequent truant and stayed out late on school nights drinking and smoking underage. She took five GCSE but as ejected some several classes, however, she did well in mathematics and English.
Adult life
[
edit
]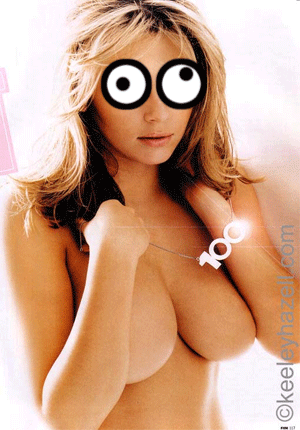 Hazell lived in an apartment in Docklands. She has been involved in two automobile accidents, the first of which was in 2005. In the course of a car crash Hazell hit her chest on a door pillar, causing it to swell for a time. In February 2006, she crashed a Mini Cooper, she didn't suffer any major injuries, but says she did fear for her life.
In January 2006, Hazell made headlines when Chelsea F.C. football player Joe Cole was assaulted at a party held at her Grove Park house. She spoke to The Sun in March, denying rumors surrounding the incident, such as someone had attacked the athlete with a weapon.
Sex tape
[
edit
]
In early January 2007, a sex tape of Hazell surfaced. The video was shot while the three were in Tenerife, Canary Wharf Islands, Spain during the previous year.
Keeley spends her time touring around England signing little boys' calendars of her posing naked. She was once know for drinking in Bromley's in Bromley, before dancing the night away in Delano's, then later standing out on the street corner followed by paparazzi.
Modelling
[
edit
]
Hazell was once offered a chance to appear in Playboy, but declined because she was not comfortable doing a full nude shoot, which is weird because everyone saw what lies beneath in the aforementioned mysteriously leaked sex tape; just take the Yankee Dollar but put her hands on your mound for goodness sake. Daily star UK, Daily Sun UK, FHM, Maxim, Zoo, Nuts, Loaded etc.
Other Media appearances
[
edit
]
She has since moved to Hollywood to peruse an acting career.