Category:Tesco Employees
Jump to navigation
Jump to search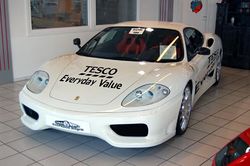 Employees of the supermarket chain Tesco.
SEND IN THE CLONES
It has long been a hidden fact that Tesco's the UK supermarket chain has been a front for a human cloning factory that has been operating in a small Village in the south of England.
The cloning operation was started in the mid 1970s. They were rumoured to have used research obtained via a Swiss intermediary, that was recovered from a hidden bunker in a Nazi death camp in Poland. Although this has never been confirmed to date.
Over the past 30 years Tesco's have been breeding their own staff, it is not known how many clones have entered the workforce, but as recently as March 2006 it was revealed by a former employee of the Cloning plant that some 1.8 million clones have left the plant since it's went on line, and into full production.
The cloning has several setbacks though. The cloning process damages the brain cells, making the employees ignorant, ugly, fat, stupid and mentally retarded. It is known that Oscar Wilde has once worked at Tesco. He claimed to have fit in fine with the clones.
Several other Fast Food Chains, most notably KFC and the Australian Supermarket Chain, Woolworths have also made large investments with the Tesco's cloning opperation. No doubt looking for ways to obtain cloned staff for their own business opperations.
Pages in category "Tesco Employees"
The following 2 pages are in this category, out of 2 total.