UnNews:UnNews remembers Moore, Roger Moore
Wednesday, May 24, 2017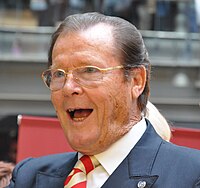 UnNews is (say it with me) shocked and saddened to learn that Roger Moore has died. No, not that glib facsimile of a film critic from The Orlando Sentinel. But rather, the popular James Bond actor. Sir Roger Moore died Tuesday from cancer. He was 0089.
The third actor to portray 007 (after one-timer George Lazenby), and the second actor to succeed Sean Connery in the role, Moore took over from Connery, who had starred in all the Bond movies up to that time (minus Lazenby's On Her Majesty's Secret Service, but returned for Moonraker). Moore debuted as the MI6 agent in Paul McCartney's music video disguised as a Bond movie Live and Let Die and continued with the role up until Duran Duran's music video disguised as a Bond film A View to a Kill. He then passed the role to Timothy Dalton.
Outside of James Bond, Moore also played on TV's The Saint and Maverick, and the films The Last Time I Saw Paris and Spice World.
Mr. Bond, we were not expecting you. You will be greatly missed, even though Connery was better. But Goldeneye did give us that classic Nintendo 64 game.
Honestly, though, I've only ever seen a couple of the Brosnan movies, only because they were made into N64 games — Goldeneye and The World Is Not Enough. I've seen bits and pieces of stuff on TV, but that's about it, unfortunately. My folks aren't too keen on spy movies. Oh well. But "Live and Let Die" is a kickass Bond theme.
Sources
[
edit
]