UnNews:The Joker found dead
From Uncyclopedia, the content-free encyclopedia
23 January 2008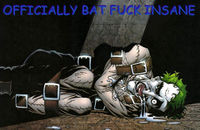 GOTHAM CITY -- The world has lost one of its most notorious villains. Yesterday, police found The Joker dead from an apparent overdose in an alleged lovers' cabin on a certain mountain. At approximately 3:30 PM local time, he was found unresponsive on the floor of his bedroom by a mountain ranger and horse. Police believe that drugs may have been involved, as bird-shaped pills were found strewn around the body, but they do not suspect foul-play. The Joker was best know as the archenemy of The Batman.
Born in the spring of 1940 in a meadow of beautiful flowers and sunshine, the Joker was a master criminal with a clown-like appearance, including bleached white skin, ruby red lips, and unkempt, green hair. A pretty boy. His exploits have been the subject of many movies, television shows, and other media for decades. He was even rated as greatest villain of all-time by Wizard magazine in 2006.
Joker was well-known for his obsession with boners, shooting people, and overall annoying everyone he met. Batman has not said anything regarding the death of his nemesis. Both the Injustice Gang and the Injustice League - two organizations of which the Joker was a charter member - have announced plans to hold auditions to replace the late Joker. Autopsy results are reportedly due in next week.
After news of his death broke, thousands gathered around the cabin destroying valuable evidence, claiming they heard high-pitched sirens and had to come to see who got shot. No one had been shot; that's just what they said.
The Joker is survived by his long time accomplice Harley Quinn.
Sources
[
edit
]